Do you ever find yourself staring at a vibrant sunset or a beautiful bouquet and wondering what color is that? Well, we've got exactly what you need!
We've rounded up the top free color identification apps for Android & iOS you could try. These nifty little apps can determine any shade in the world around us, from clothes to food.
You'll get to easily grab colors from pics or cam and find out the shade code within secs. That's right, these can tell you the name of a shade just by pointing your cam at it! These are true gems for designers and those who want to expand their color vocab. Let's dive in!
Color Picker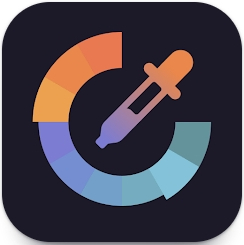 This app is a must-have for color enthusiasts. It can work its magic when it comes to art projects, design, and all that. The app covers advanced tools, including a harmony generator and cam detector, so you'll be making cool palettes in no time.
Now, brace yourself for the auto color identifier – just a few clicks and voila! Extract dominant shades from any pic and conjure up a palette that complements your project. Even pick specific shades manually with the eyedropper. You're the color maestro here!
Wait, there's more! The live ID tool fully takes the stage. Just point your cam and let the app determine the shades within a few secs. It's your secret weapon against color struggles or being colorblind.
But here's the real kicker – the palette generator. This tool uses color theory voodoo to make inspiring combos for your next project. Already have a base shade in mind? Enter the HEX or RGB code and watch the app weave its customized palette spell. It's pure wizardry and all that without spending a dime.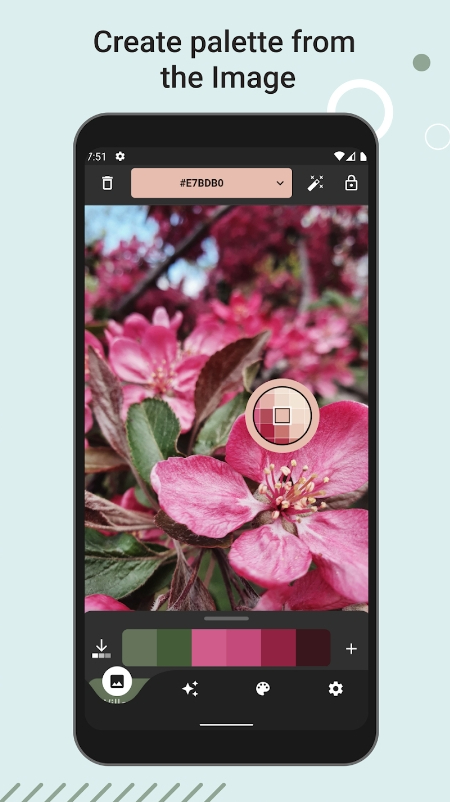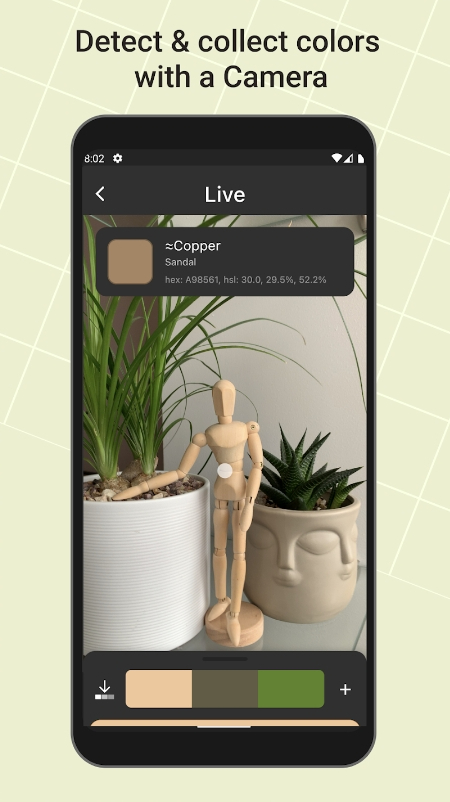 You may also check: 7 Best Paint Color Matching Apps
Color Grab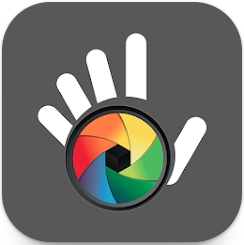 This app will take our color obsession to a whole new lvl. It's like having a personal stylist in your pocket! Say goodbye to the guessing game of figuring out the sky's shade or the fruit's color. The app's real-time ID gives you the exact hue you're after, faster than you can say "fuchsia." It's practically magic!
And wait, this app is no one-hit-wonder. With its palette generator, you'll never have to stress about matching shades again. It's like having a coordinating guru on your phone. But it goes beyond naming. It's got a blending tool, tune, and it can even find the deal combos. It's basically your very own color-mixing virtual assistant. Move over, Picasso!
Not to mention, it covers all the popular models and even exports to your fave design apps. Oh, did we mention the app has a witty personality too? Their motion-sensed auto-focus just adds a touch of charm to the whole exp. You'll be entertained while mastering the art of color detection – who said learning can't be fun?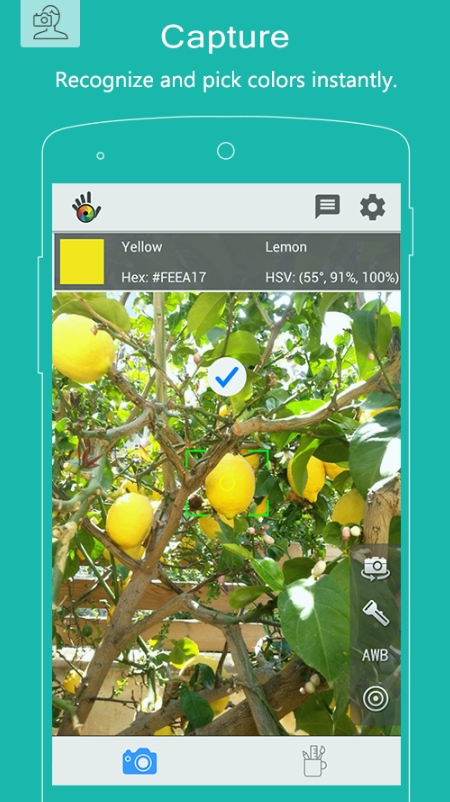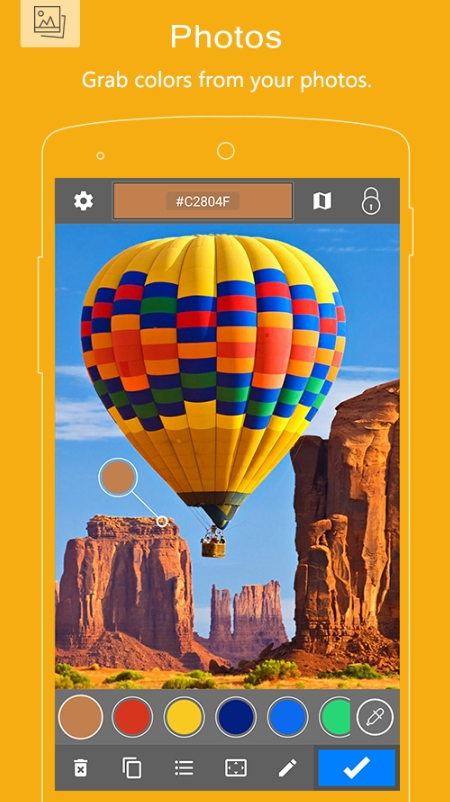 Pixolor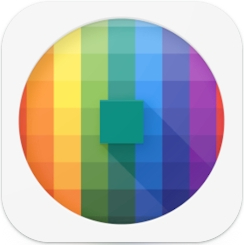 This app gives you all the tech details you may need as a designer and is also useful for those of us with not-so-ideal eyesight.
It lets you easily find out the shade code or coordinates of any pixel on your screen, as well as the size of any region. And if you're working with material design, you'll love the tool that tells you the nearest one to your focus shade.
But it isn't just for tech-savvy decorators. It's also great for anyone who wants to zoom in on parts of their screen. This app is perfect for reading small text more easily, and you can even generate a palette from the latest screenshot or circular zoomed section.
And the tools don't stop there. You can also share a cropped area of your screen with just a few taps, thanks to the focus overlay that lets you drag to the opposite corner of the area you want to share. It's free and easy to navigate, you'll quickly figure it out. There are also no ads to ruin the exp.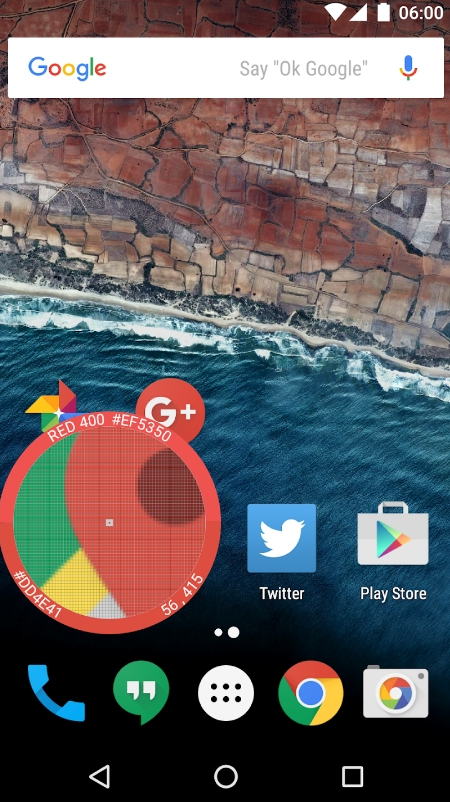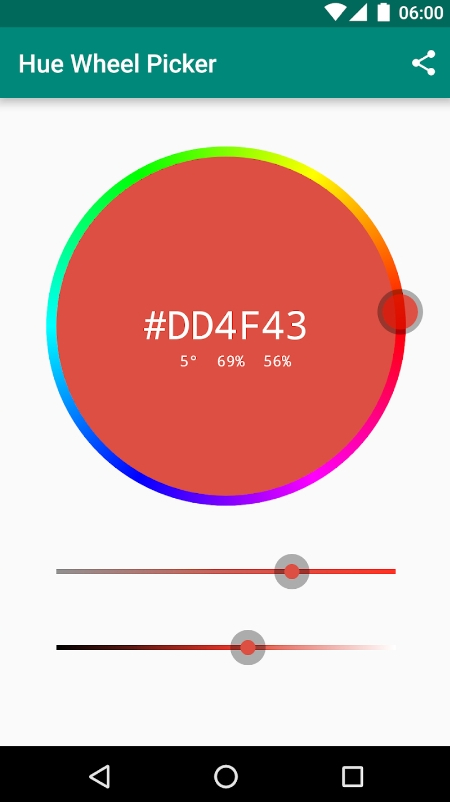 Color Palette Designer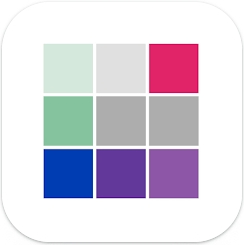 Want to spice up your design game? This app is here to help! It comes with an easy-breezy UI and powerful tools, it's your one-stop-shop for making color palettes and patterns.
What makes it truly stand out? Well, it's really like having your own personal shade wizard! You can set parameters for hue, saturation, and lightness to make a base pattern. And then sprinkle your own magic on top. Feeling adventurous? Go wild with the rows/columns and fine-tune those hues and lightness lvls.
But wait, there's more! The app's got built-in palettes based on the seasons, serving up endless inspo for both designers and artists. And with the ability to adjust your palette layout, you'll get a tailor-made masterpiece that caters to your prefs.
And here's the cherry on top: you can export palettes as PNGs within a few taps. You can even add tiles and notes to them. Stay organized, productive, and looking fly in the design world. It's suitable for both pros and newbies, and you can save all the palettes you like for further use.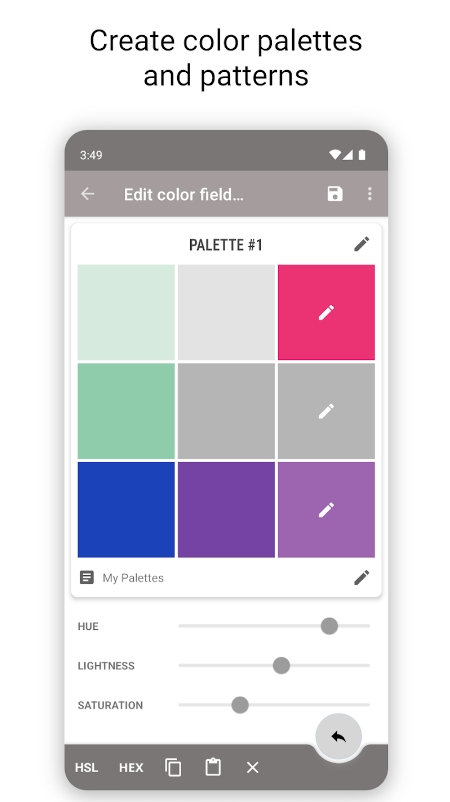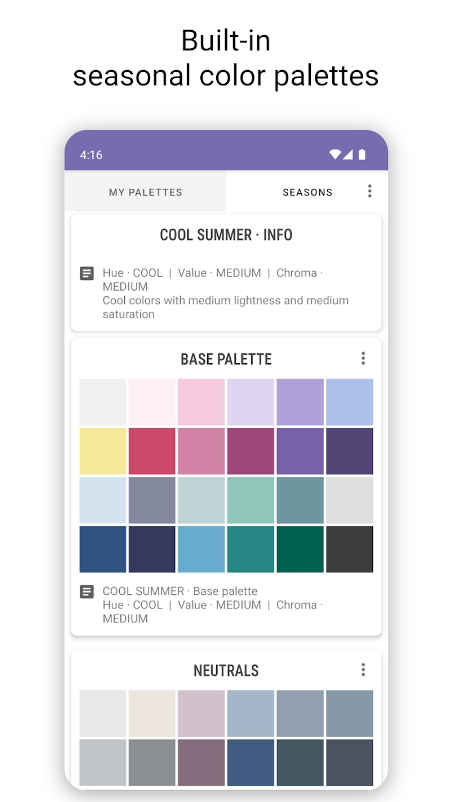 Color Picker
Tired of constantly trying to describe the ideal shade of blue to your designer, only to be met with confusion and frustration? Well, say goodbye to those days because this app is here to save the day!
It revolutionizes the way we capture shades. No need to take a pic and grab the color from it. This app makes everything even more simple. Just point your cam at any object and watch the app analyze the preview in real-time to extract the exact shade you want. It's like magic!
The app also covers a palette tool that lets you make stylish combos. Simply pick a few shades and merge them in any way. You can even save those and share them with whoever needed. The quality is top-notch, and you can pick any format you want.
Speaking of sharing, you'll get to send pallets with just a shade code and a preview. Imagine impressing your IG subs with curated schemes for your content. The app covers diverse formats, so no worries here. So whether you're a color-coding fanatic or a design enthusiast, this app is a must-try.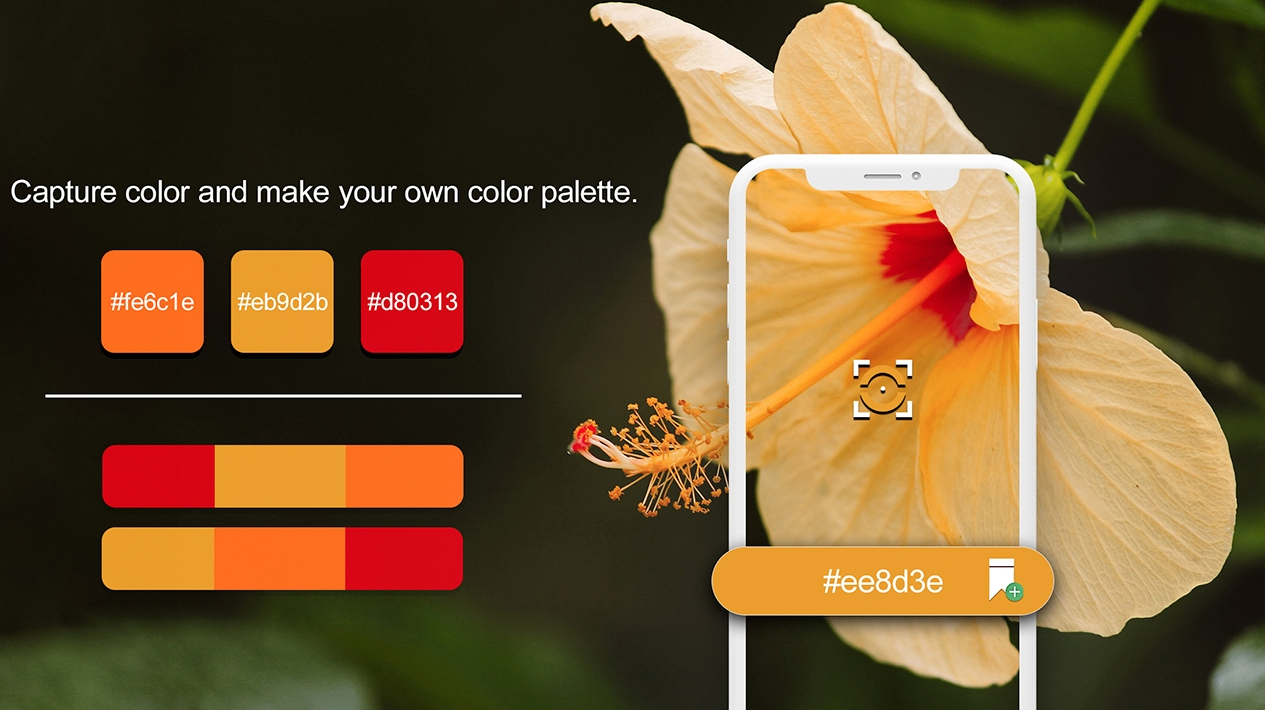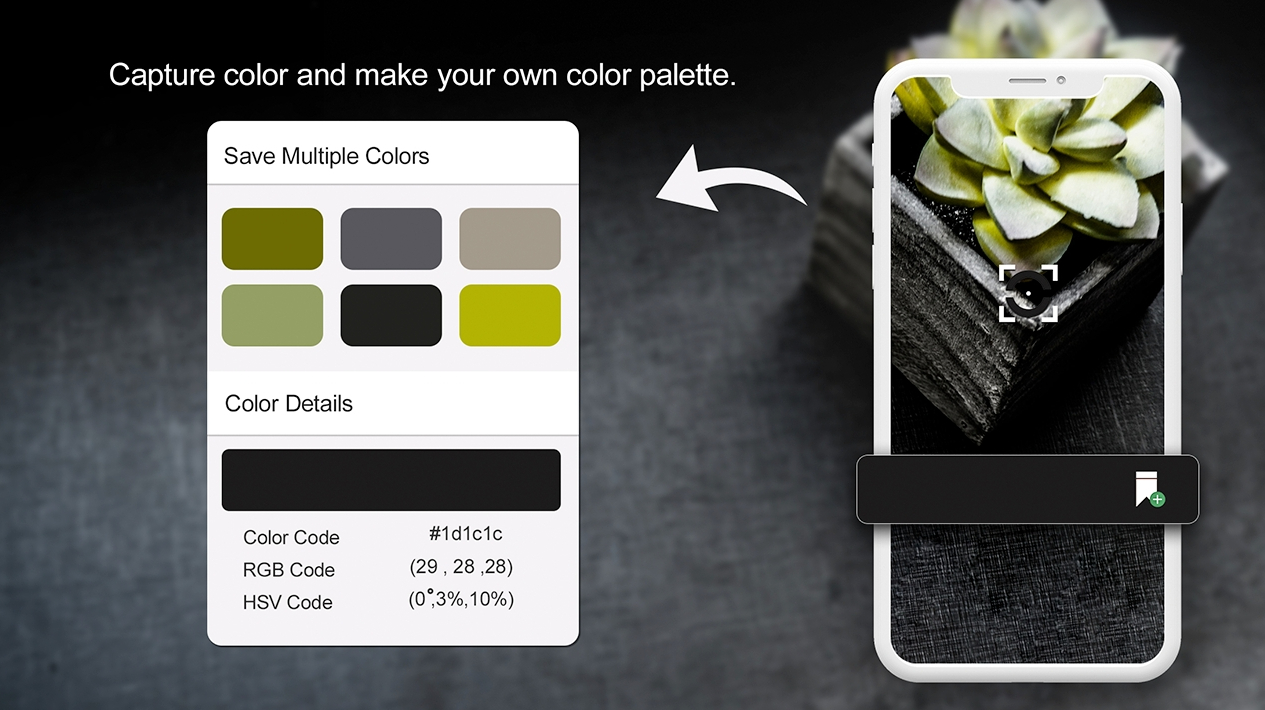 Check also: 9 Free Outfit Planning Apps (Put Outfits Together)
Color Detector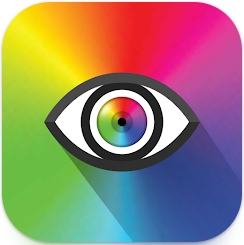 Need an app that effortlessly detects and identifies colors? This might be the one. It's a treat when it comes to finding that ideal shade for your next project. Our favorite tool? Tap and swipe the cam or snaps to unleash the power of precise shade detection. It is especially handy when you're trying to match a shade you see in the real world.
But wait, there's more! Say goodbye to dull shades with the picker tool. Generate your own unique hues tailored to your project's vibe. Feeling uninspired? The app covers 1K+ catchy shade names to pick from. Inspiration overload, guaranteed!
What's really impressive about this one is the ability to convert HEX, RGB, and HSV codes. No matter what your preference is, you can make it work here. It's your prefs, your rules.
Worried about permissions? Relax! The app only needs what's essential for a glitch-free exp. No data collection or other pesky things to get concerned about. Plus, the app is smart, engaging, and oh-so-user-friendly. There are no hidden fees too, so you're not risking anything.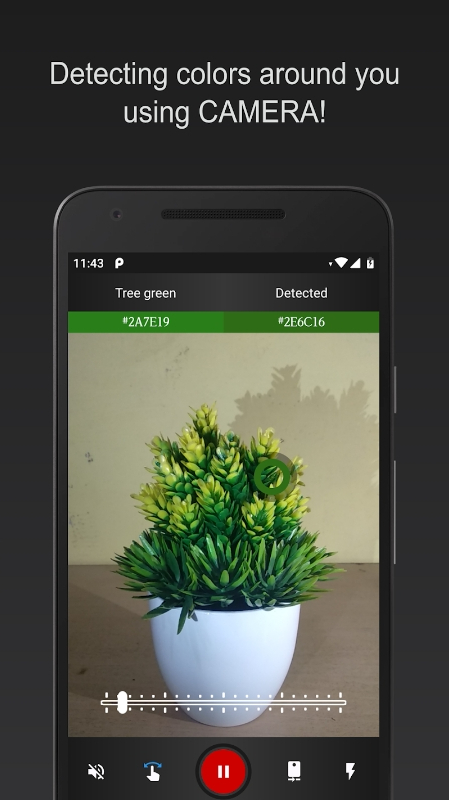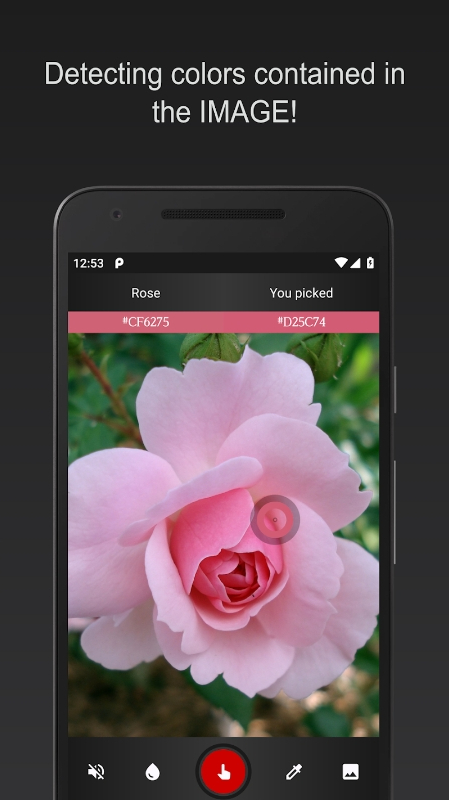 Color Harmony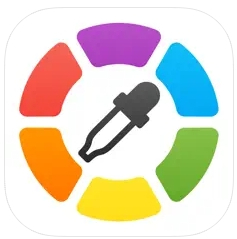 Tired of mindlessly scrolling through Pinterest in search of the ideal shade palette? Well, meet this app: your personal shade confidant. No need to look for pallets if you can make custom one that caters to your needs.
The app covers all the modes, so finding the ideal code is a breeze. Harmonic, custom, or from a snap, this app covers three ways to make palettes that'll make Picasso blush.
But wait, there's more! The y app can match shades to your surroundings in real time. Picture yourself in a field of vibrant wildflowers, capturing nature's beauty in a palette that's nothing short of magical. It also has everything to help you stay organized: save your fave option, make a lib, and convert codes with ease.
In terms of design, the y app hits all the right notes. The UI is sleek and modern, with a clean look and feel that makes it easy to navigate and use. And for all you Adobe users out there, this app even supports the (.aco) format. And you won't have to pay for anything either!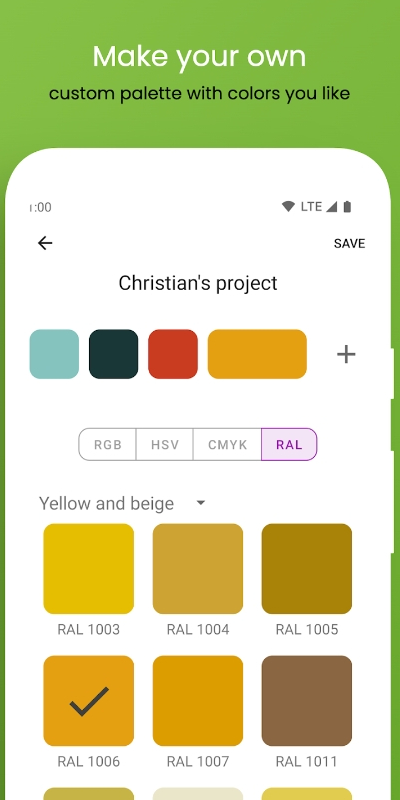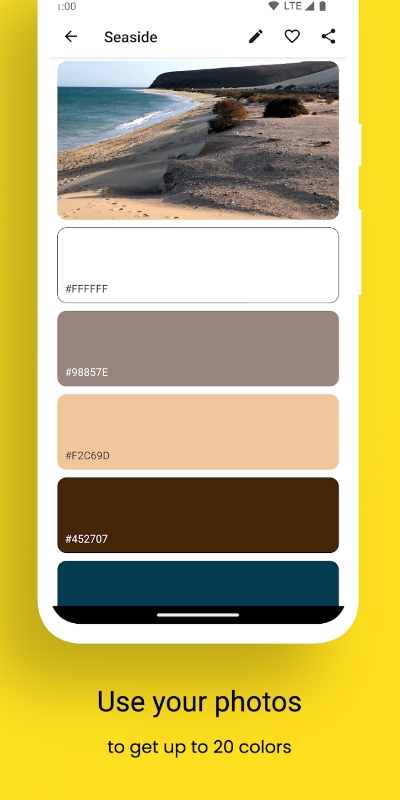 Color Selector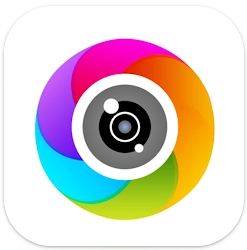 This nifty little app is packed with tools to make your shade-picking process a breeze. First up, the shade selection board lets you browse through options at your leisure. But why settle for that when there are so many other options? Drag and drop the alpha transparency for the ideal shade, change inputs, or switch to the precise palette.
There's also a cam picker, so you can easily determine any shade you come across. Just open the cam and hover the lens over the hue that catches your eye. The app will automatically pull the right shade for you.
Or, if you're feeling more hands-on, the screen picker lets you extract shades from any app or pic. Just drag and drop the tool window, and bam! Any shade you need, right there in front of you.
But the real magic happens in the pick selection. Touch and drag to hone in on any color, and even get a scheme to go with it. And that's not all – the app will give you shade details in multiple formats. You can even get complementary shades or contrasting ones, just like that.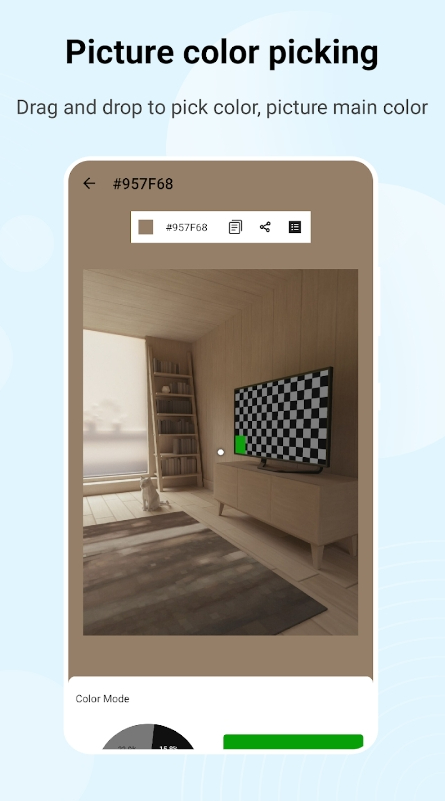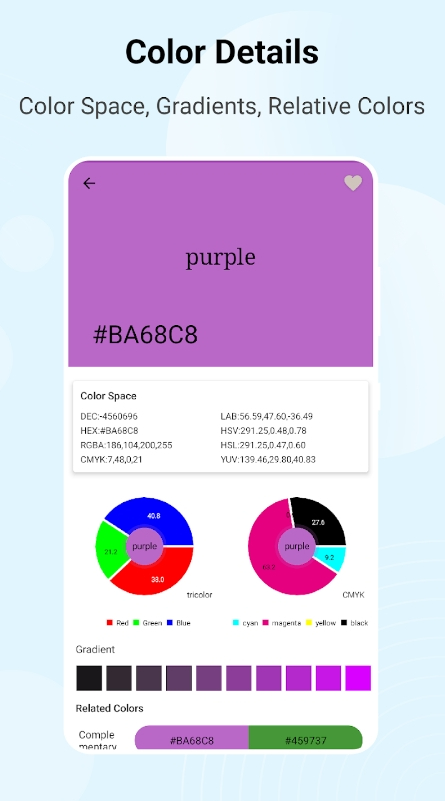 Color Palette & Color Finder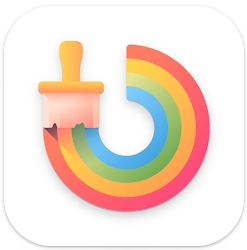 Here's an app to help you find an ideal shade combo. It covers a multitude of tools that will make the shade selection process a breeze. There's a cam picker, so you can easily grab the codes of your surroundings and save them to your personal palette.
There's also a snap picker that works pretty much the same. It lets you access the most important shade codes from any pic on your cam roll. The palette itself is incredibly versatile, offering access to 5 code types. And, if you find a shade you no longer need, it's a cinch to delete it from your palette.
But wait, there's more! The app also covers a magic generator that covers harmonious tones of 19 pro-grade shade codes, complete with names. These can be easily accessed with the picker included in the app.
Plus, you'll get to save collections as palettes and add all kinds of annotations needed. Sharing these with others is simple and seamless, thanks to the HEX and RGB formats. And if you need smth more universal, there's a PDF export as well.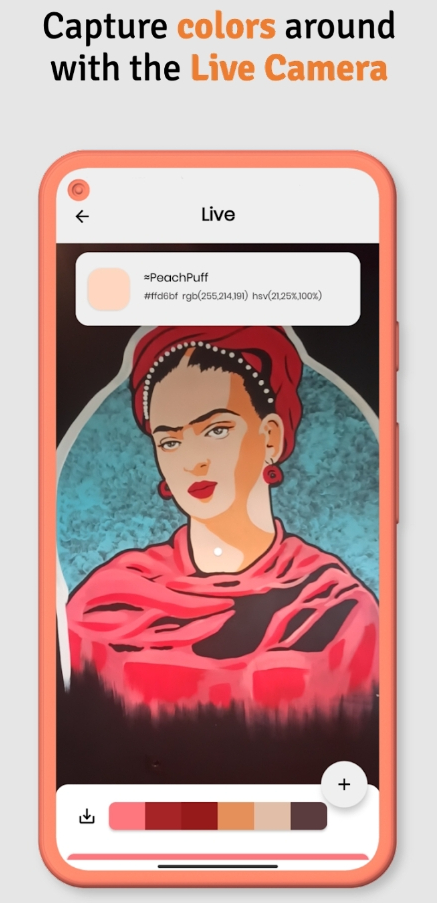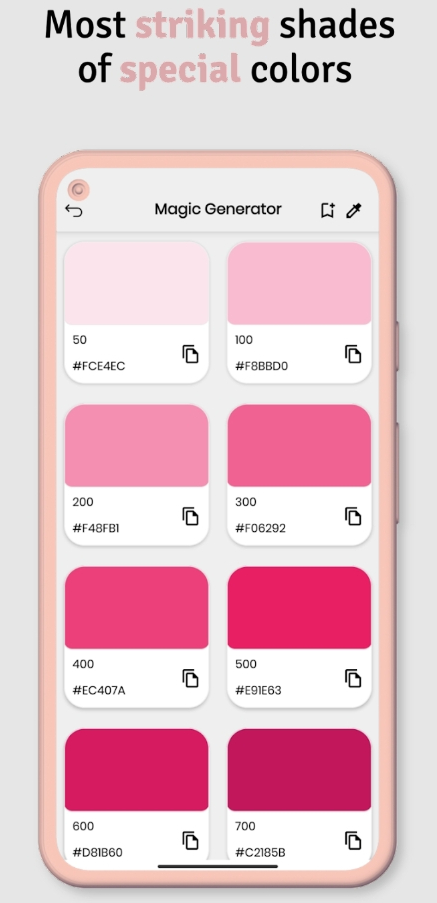 You may also like: 10 Best Clothes Combination Apps
Color Gear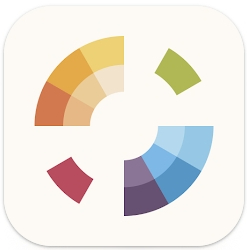 And lastly, there's an app that lets you find inspo in colors. It's an all-in-one tool that takes the guesswork out of making harmonious palettes. It's incredibly intuitive, regardless of your exp and skills.
There are two modes to pick from: the RGB and the Itten wheels, so you can apply any schemes and make a set that caters to your needs.
But what really sets the app apart is its ability to extract shades from picks. There's a simple extractor that lets you turn any snap into a palette. Just pick an image from your cam roll and let the app's algorithms do the rest. You can even manually pick shades from the snap with the eyedropper and copy the code to generate diverse harmonies.
And why stop at just discovering palettes? You can save your set along with the image and make a collage, too. Pick a layout, place the palette, and you're all set. It's a gem for those who want to get into color theory. This app is the ultimate tool for bringing your color vision to life.