The developers of Burningthumb Studios have fun with the unique game Coconut Hut. In the game, users need to collect as many coconuts as possible together with a friend Ami on an abandoned island. Be careful on your way to victory. Come up with a strategy and tactics for a successful implementation.
By the way, if one day you get tired of Coconut Hut, you can also try the great farm game apps.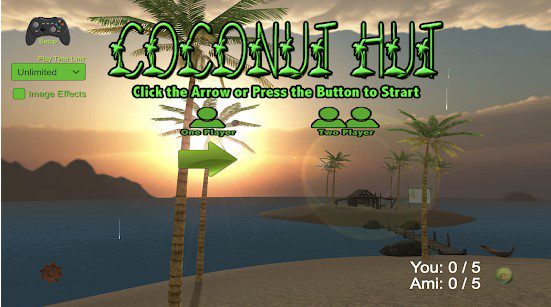 When you first start Coconut Hut you will see the main menu on an animated background. In the upper left corner is the "Setup" button in which you can change the control buttons for more convenient gameplay. You can also set the "Play Time Limit". There are 3 modes "Unlimited", "5 minutes", "10 minutes.
Then you can choose the mode of one player or two and start the game. After that, the hero gets to the island with many palm trees.
By clicking on Settings in the lower-left corner you can adjust the parameters games. Your task is to collect the coconuts faster. As a rule, they lie under the palm trees but keep in mind that some coconuts are dry and easy to carry, some are under the rain cloud, and more difficult to carry as many coconuts as possible as Ami.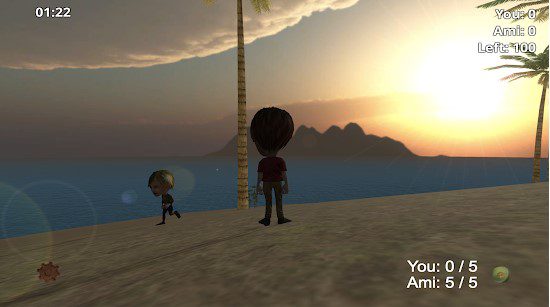 If you have questions or problems when using the application Coconut Hut, you can always contact the support service. The reply from the support services always comes fast, so you don't have to worry.
The chief advantage of the game is offline access. The user can play the game without internet access.
A bright and visually user-friendly interface with animation will allow each user to enjoy the gameplay and get a lot of emotions from sound effects. Moreover, realistic graphics will allow you to immerse yourself in the gameplay and focus on it.
What is more, you can read the article about the mini racing adventure games. 
In general, Coconut Hut is an excellent game with bright graphics and a convenient control system in which you can have fun.