Pregnancy is special even in every women's life. Or, being more precise, it's a special time for any family, especially when it's a debut baby. There are tons and tons of information dedicated to this theme – nowadays you can find basically everything concerning pregnancy and babies – from how to determine the gender of your future child according to the stars to how to better choose ingredients for shakes during the pregnancy.
It may seem like 9 months is a long time for learning everything about parenthood, but, in fact, it's not. Moreover, the exact day of birth is never known so future parents only have to guess it. However, it is essential to know at least the approximate time when the baby is going to be delivered.
Besides, in the early days it was impossible to precisely count the contractions and know a definite time when it is the moment to go to the hospital. It was leading to lots of cases when women were arriving too early or too late. Moreover, often women had to just write down the number of contractions on the paper.
In our time, you don't even have to visit a doctor to find out that. You can always get a free app that will count the time when you should expect your baby and how long your pregnancy is going to be so you can plan every single detail and be completely ready for parenthood.
1. Contraction Counter & Timer
This app is probably one of the best and the most popular apps for timing the constructions. It will make the measurement o this process as easy as just tapping the button.
When you want to review the whole history of your construction you can just click on the history icon and see all the frequencies.
The app is also useful in the sense that you can always show its statistics to the doctor. Moreover, you can print your construction history at any time. So use this app and avoid showing up at the hospital too early or too late.
The app displays the duration for the currently active timing, and the averages for the last hour of contractions, it even records the strength of each contraction, and another interesting function is that here you can also add notes to the recorded contractions.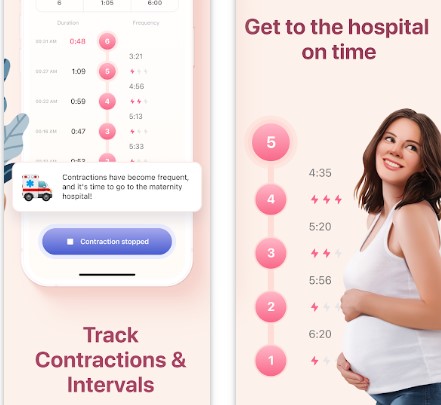 You may also like: 8 Free drink water reminder apps for Androd & iOS
2. Contraction Timer
Another useful app for timing the contractions but this one is for Android. Basically it does just the same thing. It helps you to tracks the dynamics of your contractions, see the timing and determine when it's the time to go to the hospital.
Just maybe, in this case, the app is a little bit more simple. Here you also need tap on the button each time you're experiencing the contraction and each will be saved to the history. All the data will be saved as a file and possible to print. The statistics will be presented in the form of a graph.
Moreover, Contraction Timer is a super popular app on the Google Play market which says it did help thousands of families during the delivery process. So in case you've been looking for a reliable instrument to measure your contraction and be safe – this is your choice.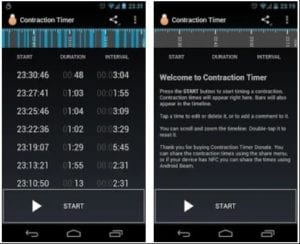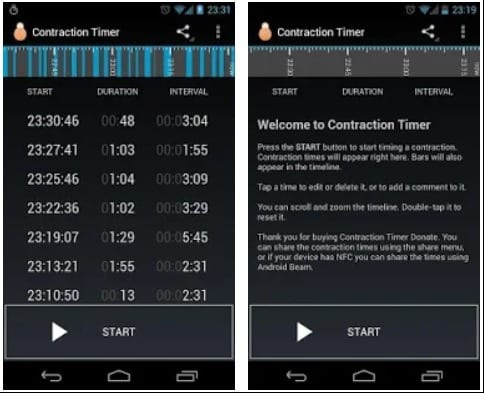 3. Full Term
Another great app for iOS to count the contractions. An interesting fact about it that it actually was created by a developer to help his own wife to keep control of her contractions, so it adds some points to the fact that it should work well. Full Term is similar to the Contraction Master app, considering the principle and the algorithm of work.
The main difference is in the interface design. Here is it more simple, you can immediately see that the software was just created to the time the contractions. Besides, with this app, you will be able to precisely count the total quantity of your contractions and define the time when you need to go to the hospital.
The application is designed to keep track of the times, durations and frequency of the entire labor period. Your full labor history and contraction progress will be saved regardless of whether you restart the application during a contraction or restart the entire device.
Another useful feature here is that you don't have to keep the app opened all the time. You can just set it to the background mode and it will still keep on track. And, like in all the previous apps, it compiles the statistics of your contractions and saves them to the history which you may check out later.
In addition, you get a full-featured Fetal Kick counter and a handy pregnancy reference section that you can use to brush up your knowledge. One more distinctive feature of Full Term is that here you are able to edit the history of your contractions – in case you forgot to record something. You can type in the contraction data manually.
And just as you can add a contraction you may also delete it. Apart from that, the app has a setup Contraction Alerts based on the 5-1-1 rule or customize to suit your needs.
You can track the breaking of waters, add a note to any contraction, add the extra data to any contraction and specify its duration and intensity and monitor your labor progression using the built-in graphs. The app also supports Apple Watch which is quite an innovative move.
Among the additional functions, you will also find the ability to track your weight during the pregnancy, entering the due date, you are able to attach notes to each weight record, and set up reminders to check your weight every week. And, if you want, you can upload all your weight and contraction history to iCloud.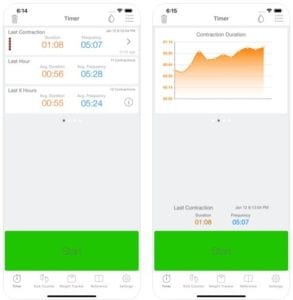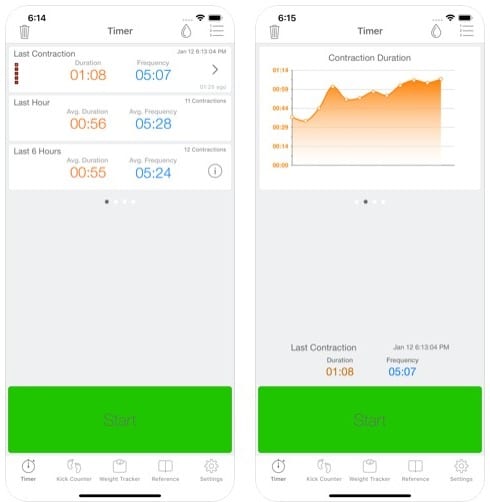 4. Contraction Timer for labor
As you can see, iOS definitely has more qualitative apps for contraction tracking than Android. Maybe it's because of the iWatch and other smart devices that Apple produces. However, this app is the complete book for pregnant women, containing all the functions which may be needed during pregnancy and labor.
Considering the contraction, there is a separate function for that. Of course, the possibilities of this timer are so wide as in the previous apps. So, the timer that you will find here is pretty much good for counting the contractions.
In addition, this app is like a journal for your mood and well-being, where you can record and clarify everything that is going on with your body. In addition, this makes it easier to keep track of the frequency of contractions, their strength, and duration.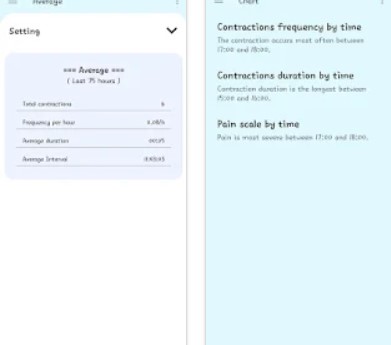 5. Contraction Timer
When it comes to birth on the child each detail is important. In order for the process to go as easy and painless as possible, all the metrics should be taken into consideration. This Contraction Timer for iOS will help you to measure the precise time and duration of your contractions.
The principle of this work is already familiar to us and easy. All you have to do is to tap on the screen button each time you are having a new contraction. Easily record the intensity of a contraction with our simple slider during the contraction or when adding or editing a contraction.
The statistics of contractions will be represented in the shape of the graph so you will get a visual representation of your data. You can also add notes to each contraction, and afterward, see the whole information and comments on your labor process.
Reports and graphs for displaying averages and trends over time will be coming soon. These graphs will show if your contractions are increasing or decreasing over time, as well as allows you to decide when you should go to the hospital or birthing center.
And don't worry that the app will be too complicated to use during the contractions. There is a large set of screen buttons so you can manipulate the app any time you need it. The interface is simply designed. In general, it is a simple, but extremely useful app.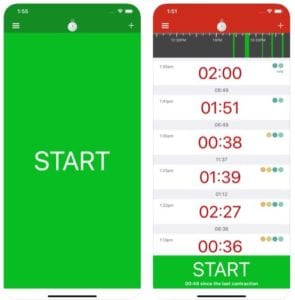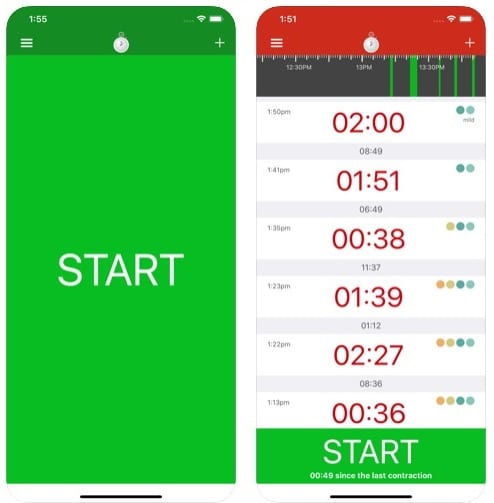 6. Easy Contraction Timer
Finally, we are moving to the Android apps for controlling the contractions. And in the case of this app, even though it says in its name that it is an easy timer, it looks and works in a little bit more elaborate way than the previous ones.
Let's start with the point that here, of course, you can measure contractions. Thus you are making your statistics. Depending on the period of your contractions, the app will be giving useful tips. Then, when there is some statistics collected, the app will analyze it and will provide you with a summary.
That summary will include lots of points and, honestly, it will be a little difficult to read. By the way, by measuring your contractions, the app can let you know when the baby is coming soon already. Besides, just like in previous apps all the data put in by you is possible to be edited later so don't be afraid to put something on accident.
This data can be used by your obstetrician to assist and guide you during labor. But overall, the settings of the app and the measurement process is more intricate than in previous apps.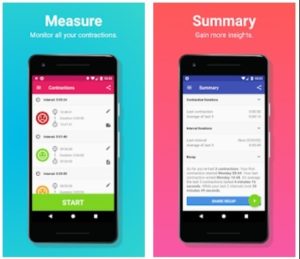 7. Contraction Timer
Quite an interesting app even when it's made to measure contractions. For those who appreciate the good design in everything, this is your best choice. Moreover, the app has great visuals and an intuitive interface. Here you will find a timer on which you can tap with each new contraction.
You can also categorize each of them: is it light, middle or hard. Then the app will provide the graph of contractions data made by your recordings. You can delete and edit each record, also comment on it. A distinctive feature of this app is that it is can be converted into a home screen widget so you will be able to access it quickly at any time.
There is a possibility to import and export data in CSV format. Considering the design of the app, you can choose between light and dark themes. In general, this Contraction Timer is easy and convenient to use.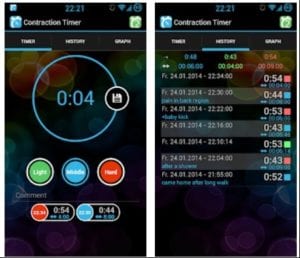 8. Labor: Contraction Timer
Proper birth contractions, in contrast to those first defined by Braxton-Hicks, are designed to shorten the uterine muscles lengthened during pregnancy. During the first stage of labor, contractions appear cyclically and quite regularly every 10-30 minutes and they last for approximately 40 seconds at a time.
This app was created in order to help to control the contraction and the birth process. Each time you experience a contraction, you just tap on the screen to make a record. Then the app will compile a graph on your contraction process.
Thanks to the graph, you can quickly find out whether the contractions are increasing in strength and the option of manually entering the measurement allows you to add previous, unrecorded contractions.
You will able to record and monitor the duration and intensity of contractions, and also put the app in the background mode and it will still be recording. The interface here is quite nice, in general app is easy to use since it has no extra functions. Possibilities for editing and commenting on the records are also here.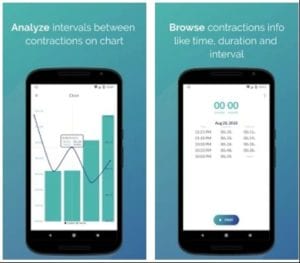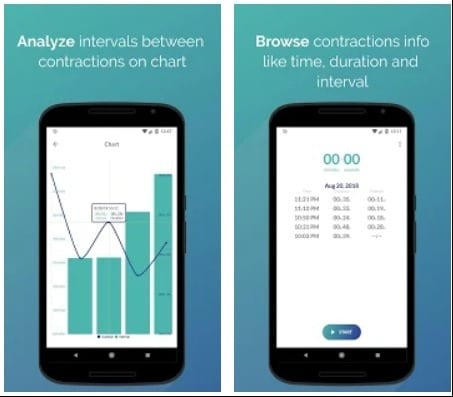 9. Contraction Timer & Counter 9m
Here we have one more cool app for iOS for counting contractions. This is actually one of the most popular apps in this industry in general, it is also popular in such countries as Australia, Canada, Italy and many more. The reason for that is that because it was one of the first apps even on the market to count the contractions.
This Times is very simple – as always you just need to push the button on the screen of your smartphone when the new contraction comes. Thanks to this app you will not be able to track your contractions but also to determine when it is the time to go to the hospital.
Moreover, this Contractions Timer includes the feature which analyzes the dynamics of your contractions and will tell you for sure when it is the time to go to the hospital. But nevertheless, it is always better to consult your doctor considering the duration and intensity of contraction even when you got an app like this.
So it is useful to rely on your own feelings as well. They say, better safe than sorry. In other aspects, it is a great and reliable app that is meant only to count contractions and easy for any type of user.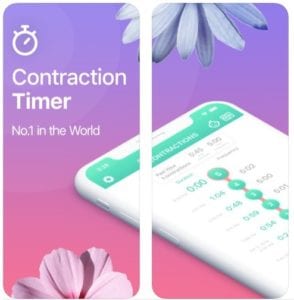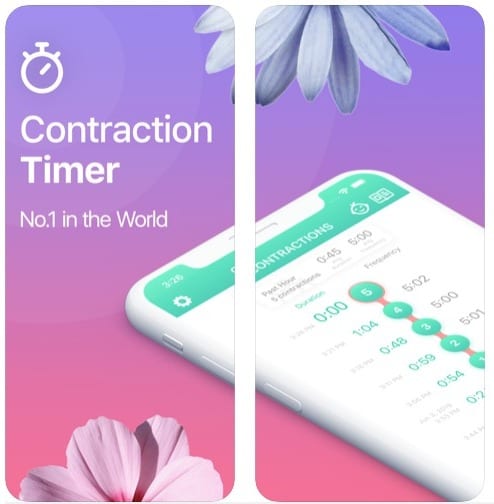 10. Contraction Timer & Counter
This contraction timer includes a little bit more function than a regular one. Except for the traditional counter and alert signal telling you when it is the time to go to the hospital, the app contains useful tips for your contractions period.
The reason why contraction timers are getting more and more popular today is that contractions used to be recorded to the special gear or just on the paper. This was often inconvenient and required a lot of effort. But now, thanks to smartphones, recording your contraction process and analyzing it is easy as a couple of clicks.
And even if you are totally unprepared for the birth process and have no idea how the contractions should be like, don't worry – the app will provide you with all the necessary information. And it doesn't matter how often you have contractions – it is important to write them all down.
You might have contractions without pain during your pregnancy, or even false contractions, you don't notice but don't worry, the important ones will be those in the final stage of pregnancy. In the tips section, you will find different articles, which are meant to help you at this stage of pregnancy.
It is useful to read them in advance, since they contain info about the different types of labor pain symptoms, how to identify them, how to time contractions, stages of pregnancy, etc. The interface of the app is simple and cute and you don't have to spend much time on understanding how to use it.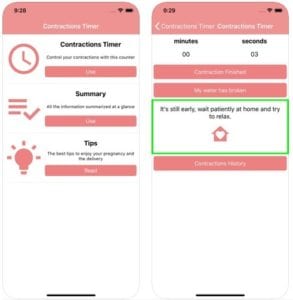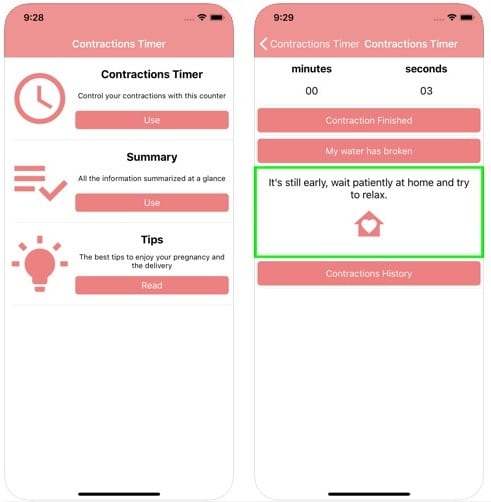 11. Contractions
The closing app on this list is the app for Android which is called just "Contractions" and logically. contains all the information you need about this crucial process. It works in the same way as other apps we mentioned before – you need to tap the button on the screen of your smartphone and all the records will be made.
Later the app will be able to make the stats of your contractions, to say their actual state and send you an alert in case it is time for you to go to the hospital. All the data collected in the app will be useful for your doctor later.
The usage of this app will also help you to distinguish between Braxton Hicks contractions (practice contractions or false contractions) and labor contractions (real contractions). Besides, the Contractions app contains articles about the labor process and useful tips about it.
You are always able to review your data and add necessary corrections to it. It is easy to use, what you cannot say about all the contraction counter apps for Android and the interface is made quite nicely.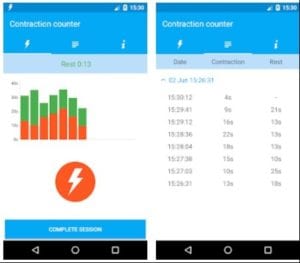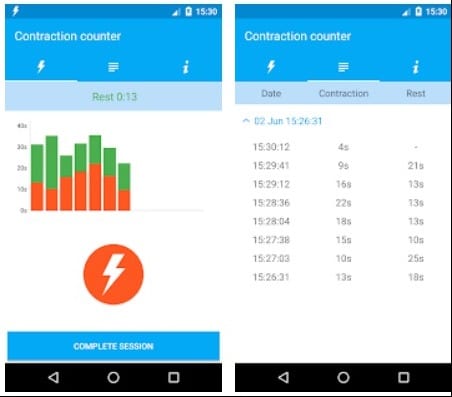 You may also like: 9 Best deep breathing apps for Android & iOS