Do you consider yourself a Windows-lover? If you answer in the affirmative matter, this post is what you've been searching for. The thing is that now we are going to review the best Microsoft Windows launchers for Android.
Before we start, what is a launcher? A launcher is an app that allows a user to change an interface of his or her gadget, including Home Screen, the Dock, icons, widgets, Block screen, and so on. Moreover, the interface will change not only its design but behavior as well. As for more pluses, you will always have an opportunity to switch between your native platform (Android) and the installed launcher's interface anytime. 
One more advantage is that the choice of launchers is surprisingly wide. As you are interested in Windows-based ones, in this very post, you will learn about such launchers in detail. Furthermore, each of them will be available on Google Play.
1. Computer Launcher Pro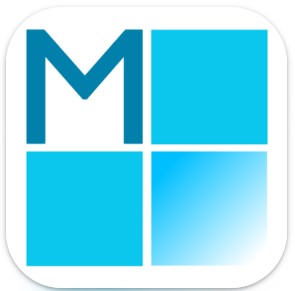 The first app that will make your device interface look like Windows ones is called Computer Launcher Pro. Being one of the most top-rated, it will meet your requirements for sure.
Right after installing the launcher, you will be able to fully adjust your Home Screen making it look like on your PC. You can add icons, change their color, put any Windows widgets there, and many others.
What is more, you will also have a Start Menu at your fingertips with quick access to all the necessary apps and files. As you can see, every little detail of the Microsoft system is supported in this app as well.
The same can be said about notifications and settings. In the right bottom corner, you will find the well-known action center. You can't imagine how convenient it will be to have the same feature on your phone.
One more built-in Microsoft feature is the File Manager. Thus, you will be able to search and explore your files and Folders, Copy, Paste, Zip/Unzip, RAR, Delete Files, Share Files, and so on.
Plus, listening to music, watching videos and photos will be also available in the Windows style.
As for the interface design, the app will provide you with dozens of themes, live wallpapers, packs of icons, and so on. That's why you can fully customize the system.
When it comes to reviewing the app's capabilities, we can add that hundreds of users really admire the launcher's speed and accuracy. So you will definitely like it as well.
By the way, we hardly can imagine Windows without Recycle Bin. Well, this launcher will let you put the unnecessary files there and delete them later.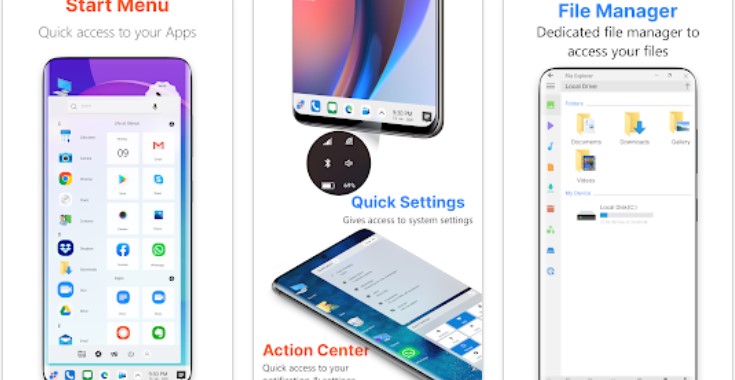 2. Microsoft Launcher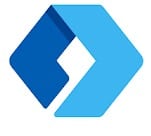 The next app that will turn your gadget into PC is called Microsoft Launcher. In this case, the launcher will be so appropriate for those who dream about making a phone fully compatible with PC.
Let's start with a design. Well, you will have access to various themes as well as to wallpapers from Bing daily to be installed on your Home Screen. In addition, packs of adjustable icons are one more thing that will make you fall in love with this launcher. Moreover, the icons can be organized into folders available for creating.
Now it's time to consider other features. First of all, your PC can be fully synchronized with a phone or tablet. Thus, you can always have access to any files in this or that device.
Secondly, the thing that will make the using process much more convenient is the search bar. It will be so helpful in operating with apps and files.
Also, this great launcher will allow you to manage your feed to see news, calendar events, docs, and contacts at a glance. As for the schedule, you will manage it across various devices. As we've already said, this app will be so useful for people who need 24/7 access to their PC information.
By the way, if you are in good relations with Cortana, the app will be the best choice for you. This virtual assistant will be so effective in reminding users about tasks, notifying about unread messages, and so on.
If you are worried about phone contacts, there is no need to do that. The matter is that you will be able to add the most important and frequently used contacts to your Home screen. Moreover, they can be put into folders as well.
As a bonus, this launcher comes with a bunch of Microsoft apps. It is one more reason for installing this popular app.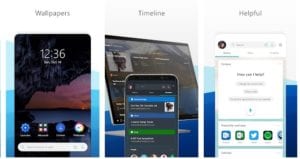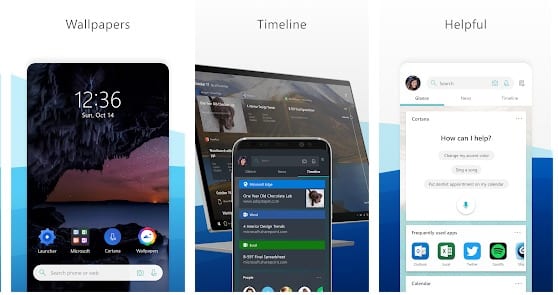 3. Square Home 3 – Launcher : Windows style
The next app on our list is Square Home 3. With this launcher, your device will have desktop computer design.
First of all, it must be mentioned that with this launcher, you will have unlimited abilities in adjusting the interface. It will represent a vertical or horizontal scrolling page with all the necessary icons.
You will be able to adjust everything – from the icon itself up to its size, place, and color. Every icon can represent an app, folder, tool, widget, and so on. That's why you will have only the necessary things at your fingertips.
Again, you will have quick access to your contacts as well. In this case, you will be also able to organize them as you wish. As you can see, the app's capabilities are really endless.
Finally, this concept with icons is so appealing. Just look at the photo below. If you like it as we do, we highly recommend you to install this app.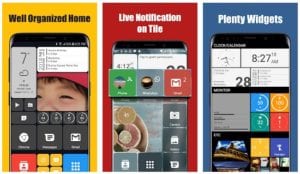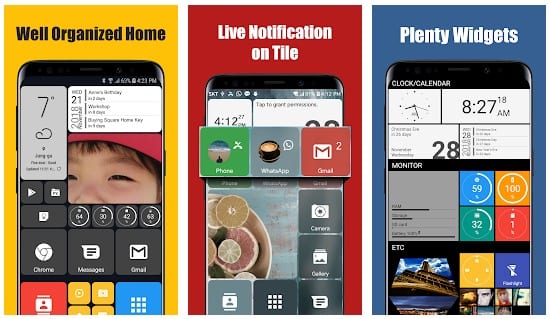 4. Win 10 Launcher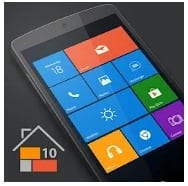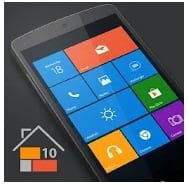 As for an alternative, you can check out the Win 10 Launcher app. In this case, your gadget interface will also resemble your computer ones.
Like in the previous app, you will find the new interface full of colorful icons representing this or that app, widget, file, tool, and so on. One more similarity is the various options to adjust these icons. It will remain to choose the best content of the icon, its size, color, and place on this page. By the way, the colors will be typical for Windows 10.
Nevertheless, this fantastic launcher has one more distinguishing feature. It contains the Taskbar placed below like on your PC. It will provide you access to the Start menu, time and date, notifications, contacts, and so on. Again, it's up to you to choose which features the Taskbar will have. You can customize everything.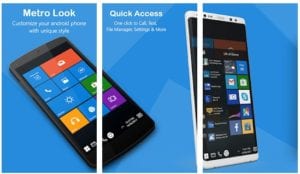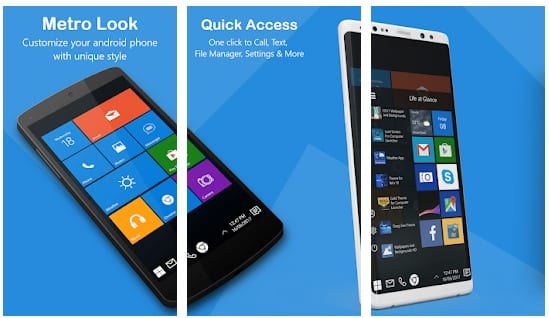 5. Metro UI Launcher 8.1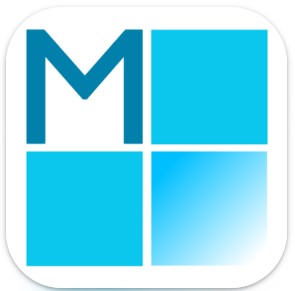 Still not satisfied? Well, here is one more awesome app that is worth being installed. It is called Metro UI Launcher 8.1.
This very launcher will make your interface look like a scrolling page with dozens of icons. As usual, you will be able to fully adjust icons to make them fit your taste. That's why the interface of this launcher will be dear to everyone's taste.
Apart from this, you will have access to some advanced settings of LockScreen. And of course, your device must be protected. That's why setting a password with this launcher will be a good idea.
As for the StatusBar, the app is powerful enough to let you manage it according to your taste. So you can customize every little detail from the time display up to color.
Is UI design important for you? Well, in this app, you will find a great choice of wallpapers as well as themes. What is more, the gallery can be updated by loading this or that item from the online source.
Plus, the developer emphasizes that the app is absolutely ad-free. That sounds really great.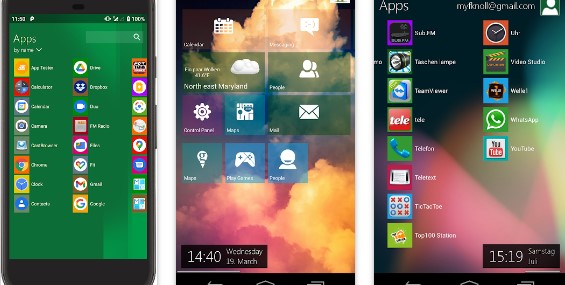 6. Launcher 10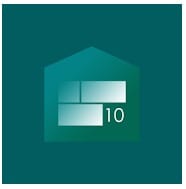 One more similar app is Launcher 10. Let's find out why it must be mentioned in the list of the best Microsoft Windows launchers.
This nice launcher's basic features almost the same as the previous ones. The interface will look like the scrolling page with icons that can be fully adjustable by users. Icons can represent any app, tool, widget, contact, folder, and so on.
Besides, each icon can be adjusted in its size, place, transparency, color, and many other parameters. So it seems that there is nothing impossible for this excellent launcher.
Here are some distinguishing features you may also like. First of all, it is light and dark modes, which is so required among users. Apart from this, with only one swipe, you will be able to see the full list of installed apps. We think it is a great advantage.
The app also supports some Pro features. If you are a Premium user, you will have access to such a feature as Live tiles. Thus, you will be able to see the notifications directly on the icons. Also, a paid subscription includes Tile badges. In this case, the number of unread messages; missed calls and so on, will be shown on an icon. So there is no need to open this or that app anymore.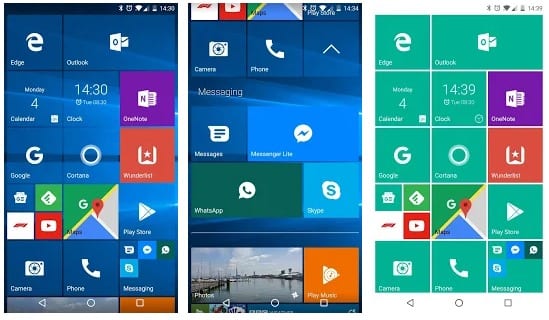 Dou you need something more efficient than dark mode? If you do, here is the post about the best screen dimmer apps for Android & iOS.
7. Metro Look Launcher 2022
Finally, if you are tired of the interface typical for Android, here is one more app called Metro Style Launcher 2022. Why do we add this launcher to this list?
The answer is obvious. It meets all your needs and requirements. That's why it will be a good idea to install this launcher as well.
To begin with, it has all the basic features of a typical Microsoft Windows launcher. We mean absolutely adjustable icons. So let's better discuss its distinguishing features.
This amazing launcher contains the full list of the apps installed. All you will need to do is to swipe left. Let us remind you that not every app above supports this feature.
Furthermore, with this app, you will be able to see if there are missed calls or unread messages. The main thing is that it can be done without opening the app. Keep in mind that in the previous app, these features were paid.
One more difference is that you will be able to set any photo from your gallery as an icon background. It will make your new interface even more unique.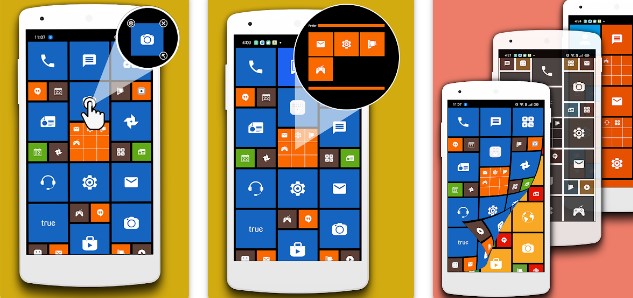 You may also like: How to find hidden apps on Android (3 easy ways)