Do you constantly check WhatsApp's' last seen'? If you do, you may think that the data provided by the messenger is not enough. To have more detailed reports at your fingertips, we highly recommend you install one of the last-seen tracker apps.
In addition to the tracking of the "last seen" status we also offer you to explore the caller tracker apps.
This very post includes reviews on the best apps in this category. You will need to choose the most appropriate tool and install it from the App Store or Google Play.
1. Warep – WhatsApp tracker
Warep is an app for checking online status. Do you want to know how much time your conversation partner spends online on WhatsApp? Then you should definitely install this program.
You will be able to secretly serve your status because the tracking does not give away your identity. You can even see the status of the user who has blocked you.
The app has a ton of features. You don't have to constantly log into messenger and check your profile. You can do your business and as soon as the person you've chosen goes online, the app will immediately notify you of their status online.
What's more, if the notifications start to distract you, you can quickly turn them off. You can follow whomever you want, the guy or girl who has hidden the online display. You can follow people and their statuses as much as you want, there are no limits.
The program tracks the statuses of many users at once. Thus, the app is useful both for parents and just to keep track of certain people, if required. Parents with the help of this app can put control over their child online. It is worth noting that no personal information is shared by the program outside.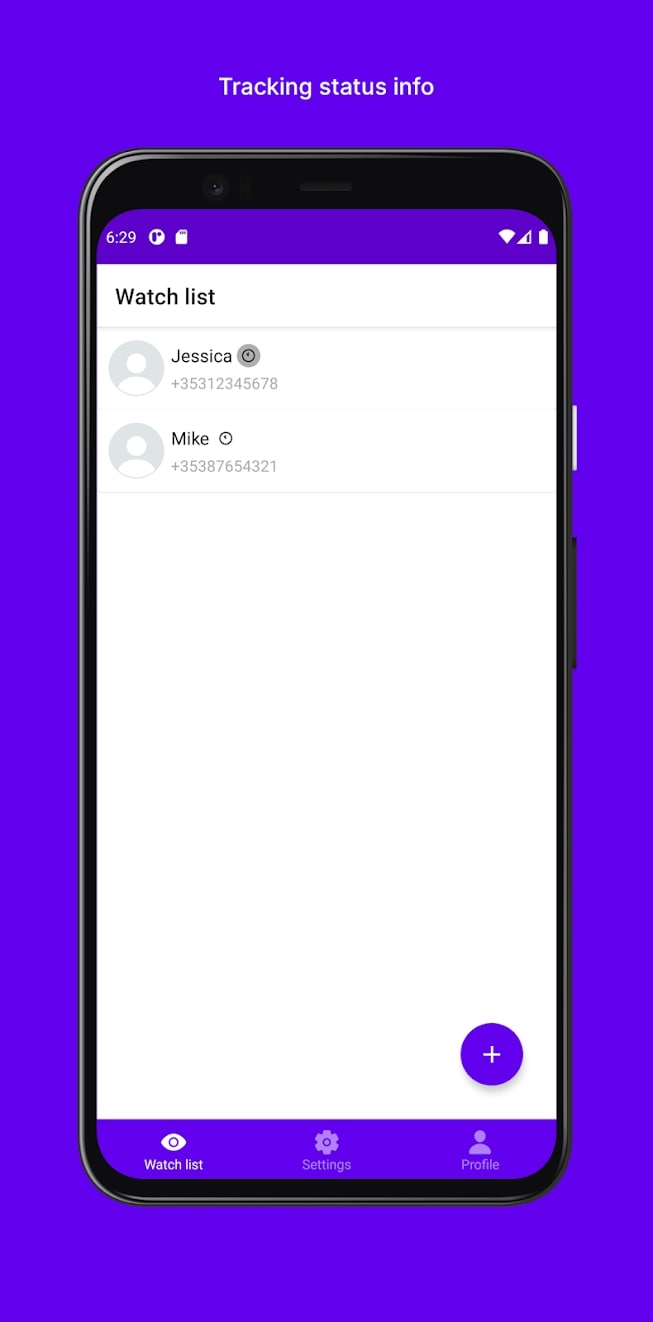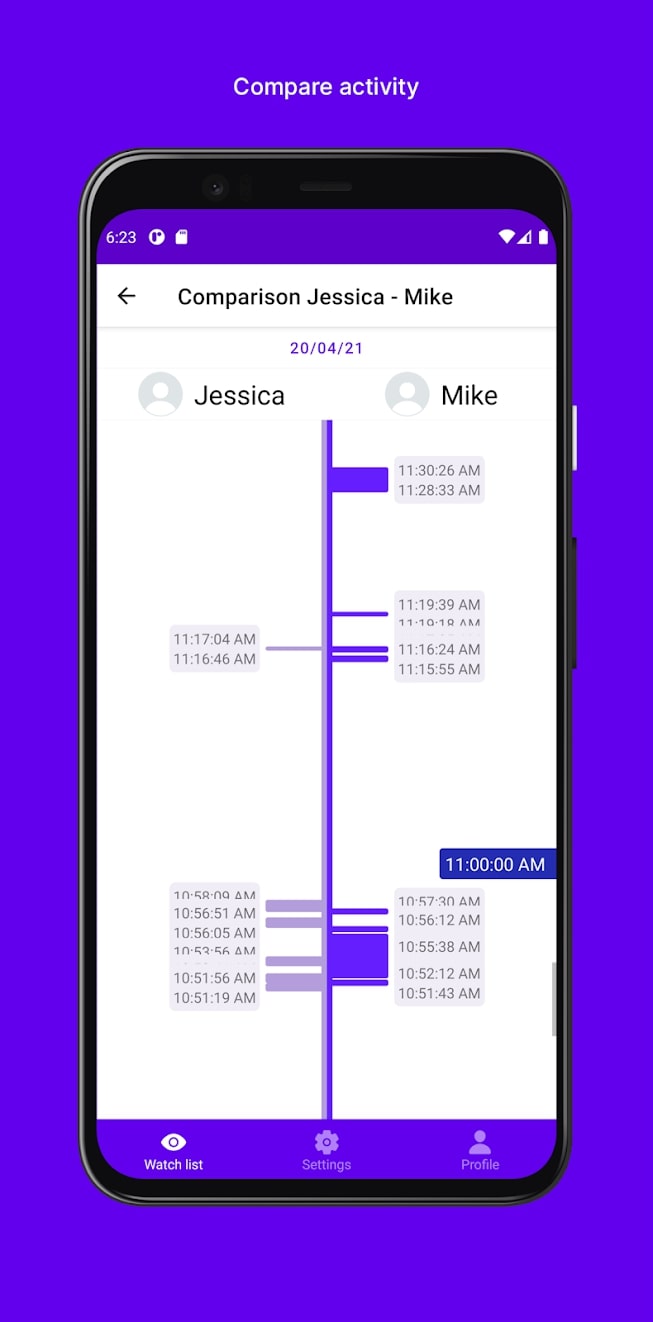 You may also like: 11 Best celebrity prank call apps for Android & iOS
2. Wstat – Online Tracking
If you are searching for an app for iOS, Wstat is what you need. On the platform, it is the top-rated one in this category.
The app is capable of generating reports with graphic elements, which makes the data more convenient to view. The reports include information on a user's activity on WhatsApp during the day. Also, you will be able to choose two dates to make the app create a report for a particular period.
As for notifications, the app will tell you every time a person opens or closes the app. Apart from this, you will know when a daily report is formed.
One more advantage is that the app's data is encrypted with a login and PIN. That's why you will keep the reports protected.
However, there is a fly in the ointment. The fact is that the app must be installed on a tracked person's gadget. One more requirement is receiving permission for viewing activity by adding his or her as a friend in the app. That's why it will be especially appropriate for parents who need to control their children. By the way, tracking several users is possible with this app.
But if these requirements seem impossible to implement, you'd better install another tool.
3. Familog – WhatsApp Online Last Seen Tracker
As for an alternative to Google Play, we highly recommend you install the app called Familog. Again, it will be suitable for users to monitor the activity of their family members.
As usual, you will be notified when a person is offline and online. If you need more exact statistics, the app will suit you too. The thing is that it will form hourly, daily, and monthly charts. Besides, there will be available several variants of graphs.
In this case, you will have a chance to track several people at once. Furthermore, the app will allow you to compare their time spent online and offline in WhatsApp. That sounds really cool.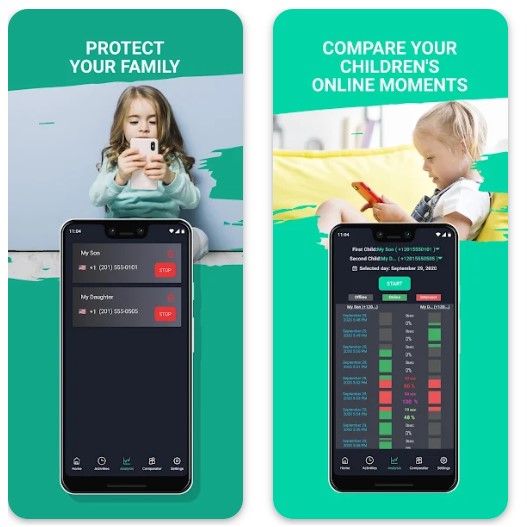 4. LastSeen
LastSeen is an app for displaying status on WhatsApp. If you are a parent and want to see how much time your child spends online, then this program will definitely come in handy. It is also very easy to keep track of users' pages.
Moreover, you can analyze profiles with this app. The program is popular because even if a person has blocked you and you want to see when he or she was online, you can easily do that. What's very convenient is that when a user is online, you will get a notification.
If you get tired of getting unnecessary information, you can always disable this feature in the settings. You'll be able to follow several people at once and all this without limitation.
Besides, the information about users is reliable. You can download this app for yourself to check how much time you are on the Internet, and track your children and relatives. LastSeen users adore its interface. The controls are extremely handy. Start tracking your friends and acquaintances now!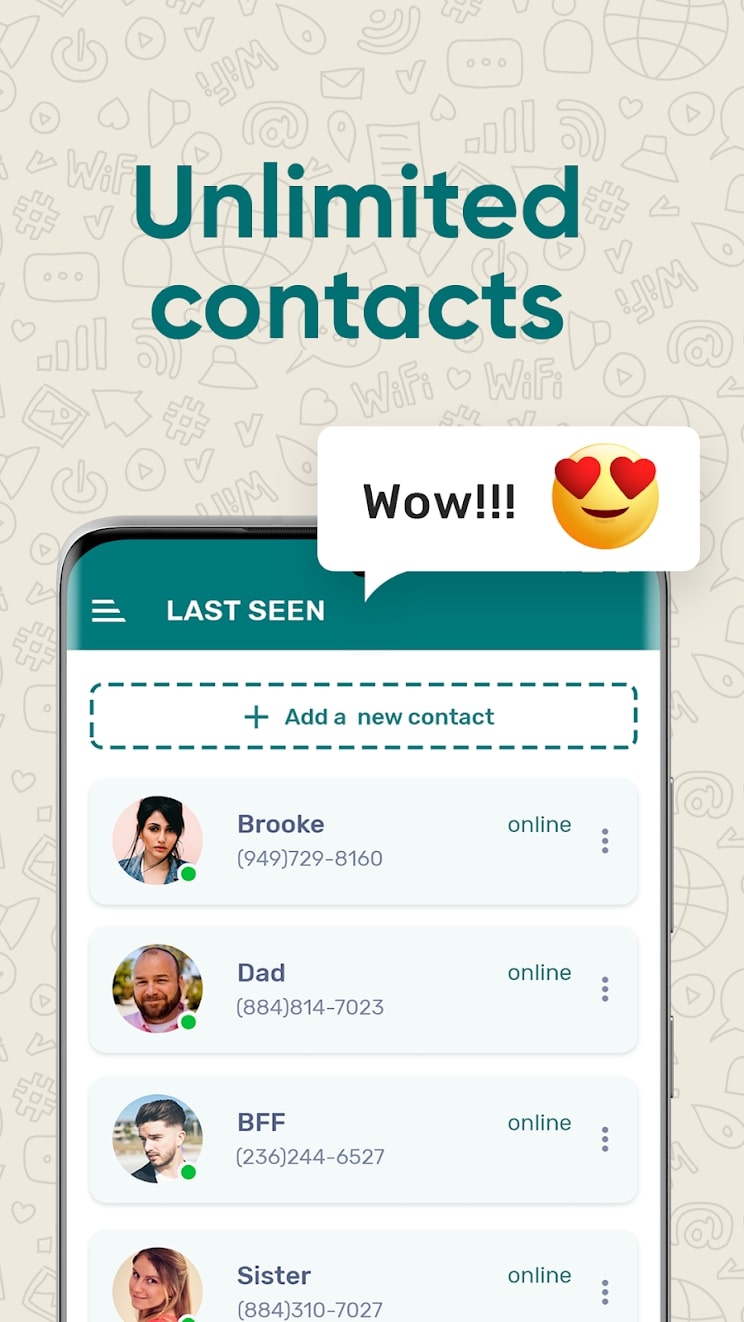 5. WaStat – WhatsApp tracker
Here is one more cool tool for Android. We can't help including it on this list as well.
In this case, the WaStat app will be suitable for those who just want to be notified and have brief reports at their fingertips.
Well, due to the app's notifications, you will stay aware of every WhatsApp session of another user. That fully meets your requirements.
Apart from this, you will have access to the online session history presented as reports. Though they will be not so detailed, you will be surprised by their accuracy.
It must be mentioned that the app has one distinguishing feature. Thus, it will let you track up to ten users in WhatsApp. That's what makes the app so exclusive.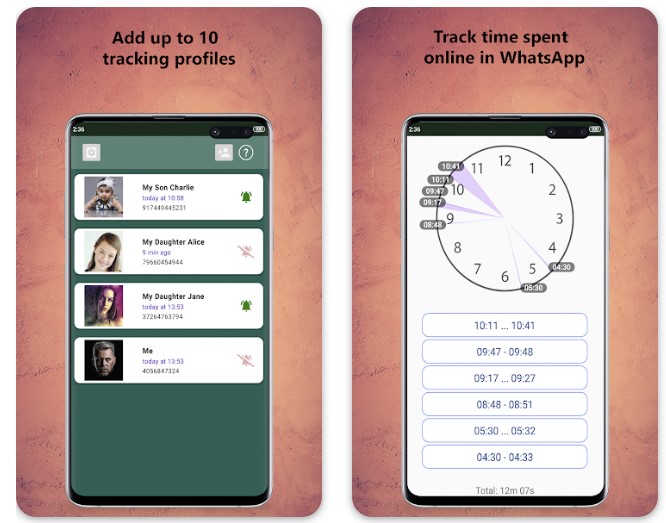 Logifi: Last Seen Tracker
Logify is one of the best last-seen tracker apps on the market. It has great user reviews and a decent number of downloads. But what is the app so remarkable for? First of all, the app has an outstanding interface design, where it's obvious that the developers put lots of thought into it.
It's also really easy to use the Logify app, even though it has a bunch of various features. Now you can synchronize this app with all of your contacts and see their online status in real time. What is more, you can set up notifications so you will know when the person appears online again.
Please remember that we talking about the WhatsApp status. And the most interesting feature of Logify is that it can even provide you with graphs about the statistics of how much a particular person has been seen online. It's hard to believe but Logify if I can even track the online status of those who prefer to hide it.
The only possible drawback of the app is that it has only the free for our child version, and then you will have to go for the paid subscription. And one small drawback is app contains ads.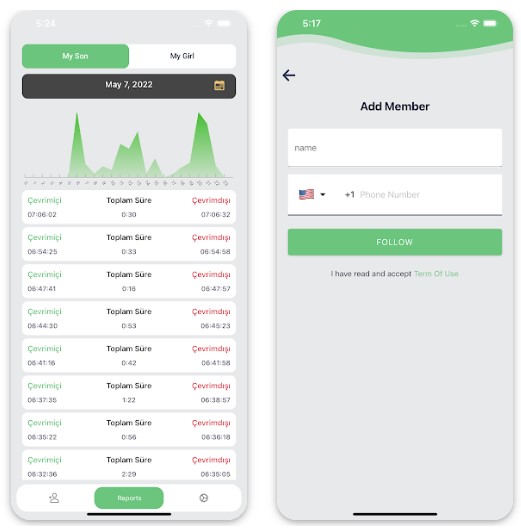 Going back to the tools from the App Store, Trackly is the one that should be tried as well. Why do we think so?
The reason for it is the app's awesome abilities in tracking last-seen time. Just like the tools above, you will be notified when a person changes his or her status from offline to online, or vice versa. Besides, tracking several users will be available.
Apart from this, the app will provide you with access to daily reports on the online sessions of users tracked. You will be able to follow two people at once. By the way, when the reports will be generated, the app will notify you about it. However, if you don't want to receive notifications, it will be so easy to disable them.
One more cool thing about the app is that you will be able to compare the two numbers you track. This very tool surely knows what they have in common.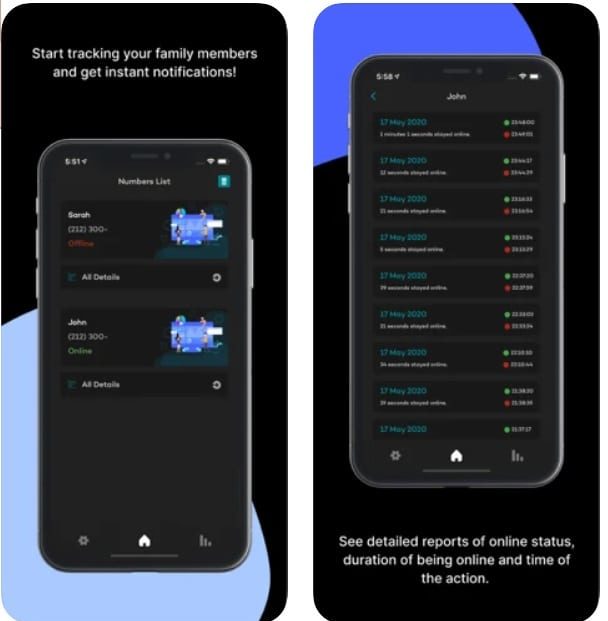 7. WA Agent-Online and Last Seen Tracker For Whatsapp
WA Agent-Online is an app for tracking people online and their messenger activity. The app is anonymous and will not give away your identity. To start tracking, you need to add a person's phone number to the app's database.
It is worth adding that the program does not give out personal data to anyone, everything is well protected. You don't have to constantly log in to the app and don't have to check the person's status because you will be notified when the user is online.
The app has many more features. You can follow many users at once. Add different users and they'll show up when they're online. Moreover, if the person blacklisted you, you will still see their status online.
This program is great for parents if they want to keep track of their child's time online. WA Agent is liked by users with its interface and multi-functionality.
You can take advantage of all the features that the developers have done for you. This program works in real-time and tracks status by time and analyzes user statistics.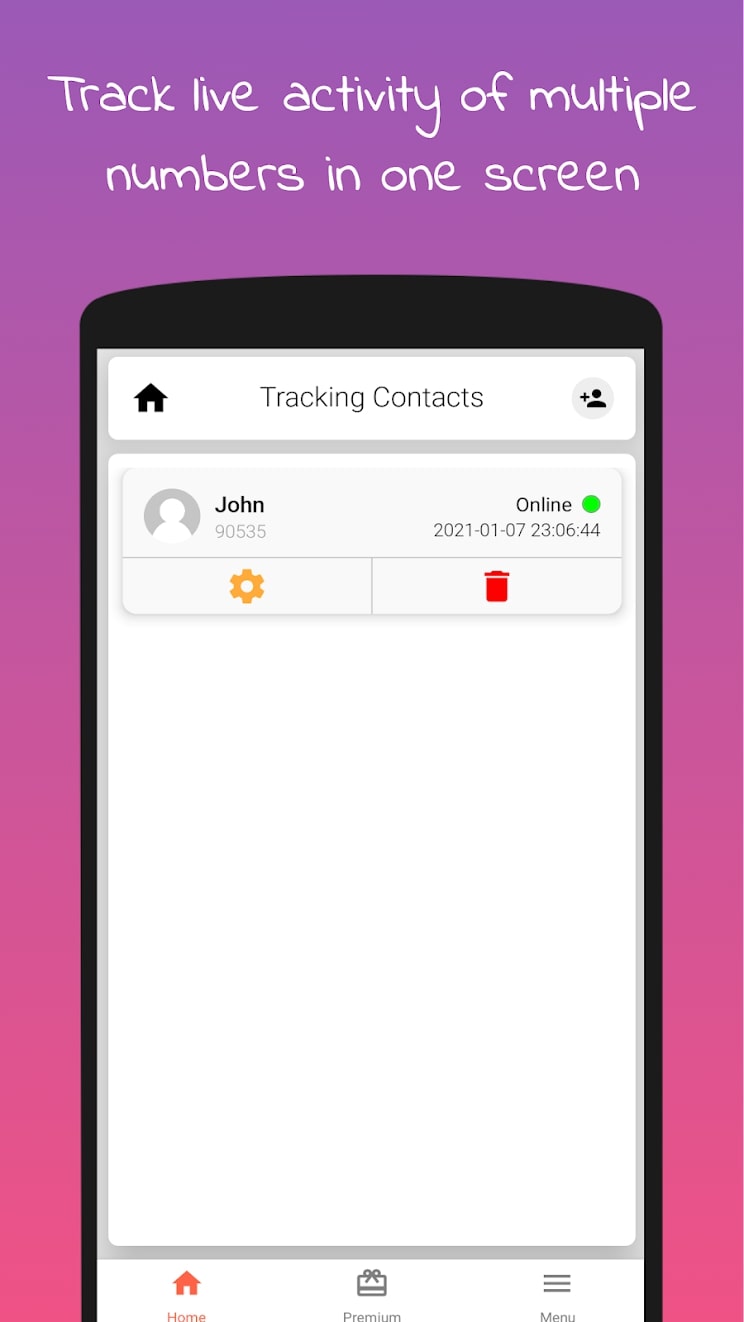 WhatsSeen
As you have probably already guessed, this is another lesson tracker for your WhatsApp. It's really a typical representative of this segment.
But it doesn't bring any superior features. Here you can add people's accounts from messenger, you can track several accounts at the same time, and also receive graphs and stats about the user's activity.
The app can also provide you with the crafts of the recent actions of the accounts of your choice. You can also set out the notifications. By choosing one single user, you can review all the chronology of their online presence.
And just like all the other apps on our list, this one comes only with a free trial. After which you will have to go for the paid subscription.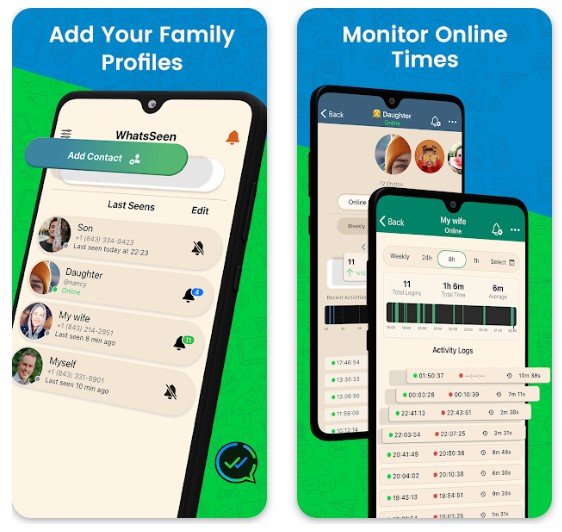 WaRadar – App Usage Tracker
One more must-have tool for tracking the last seen time is called WaRadar. Does it really meet your needs?
Yes, the app will become your assistant in tracking how much time this or that person spends online. What is more, in this case, the app collaborates not only with WhatsApp but also with other messengers.
To be more precise, you will receive instant notifications every time a user is online. As for the number of users, the app is capable of tracking several people at once.
At the same time, by the end of every week, you will be able to view reports that will reveal every secret. That's definitely what you need!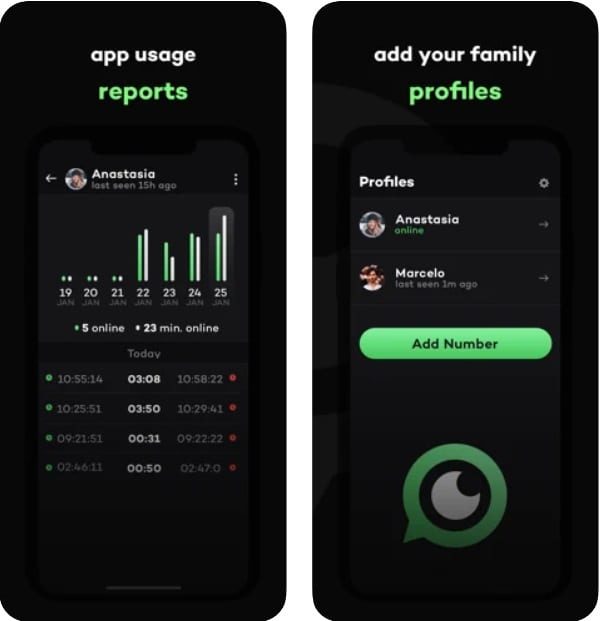 Check-Chat – Last Seen Tracker
Check-Chat is an app for tracking users online. Surely you would like to track someone if that person has been online and if their status is hidden? You will be able to track a child online and all this will not give away your identity, everything is anonymous.
To start tracking the person, you need to enter their number into the app itself. You will not have to constantly log in to the app and do not waste your time. The program will notify you with a notification if the user is online. What's more, there's activity analytics.
A feature like analytics helps you compare the activity of the person you're tracking to another person. The app has a lot of features. You can easily track many users at once. It will display the time spent online. Message notifications work fine.
No personal information is taken by the program from messengers. WhatsChat really likes users with its interface. Start following users and learn new information!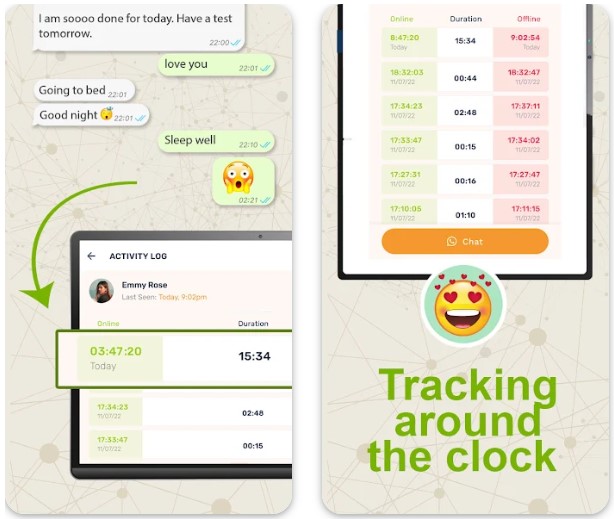 W-Track: Last Seen
This is quite a simple tracker app. Its official purpose is to always stay connected to the members of your family and see their last seen online status. The app Imports the contacts from your contact book automatically, and then it allows you to track the status of any member on WhatsApp here.
What is more, you can set up notifications for particular numbers so you are always aware when they are online. In addition, you can set up notifications to be sent to your email address and you can also get reports about the activity of some members.
However, the app only has its free trial. And after that, the only way of continuing to use it is by buying a paid subscription. Lots of users complain in the comments that the trial period is too short to even understand how the app actually works.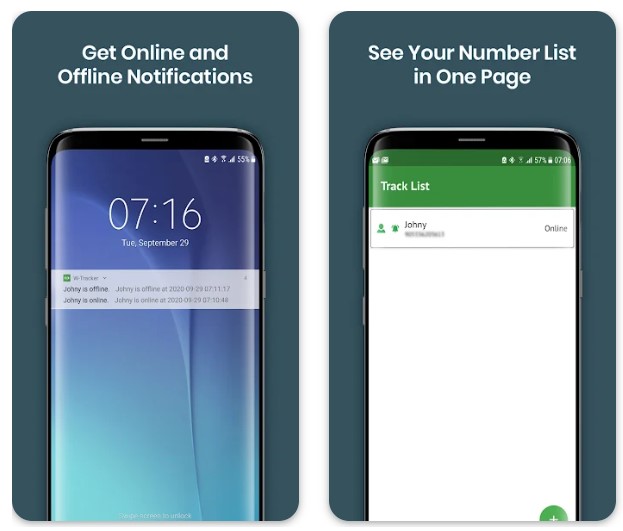 NowLog
This is another online tracking app and it received quite positive feedback from users just because it is a free app. If all other apps offer a paid subscription after the trial period here the trial period can be extended, you can keep on using the app however you will have to watch the ads.
Nowa will be extremely useful for anyone who wants to track the online status of the people they love and care about. The app sends you notifications about the last scene status. One interesting feature of NowLog is that here you can also track the amount of time that you spent on social media.
NovLog app will be more convenient and beneficial for family usage since you can install this app to your phone and therefore see the location of everyone and the online status of everyone.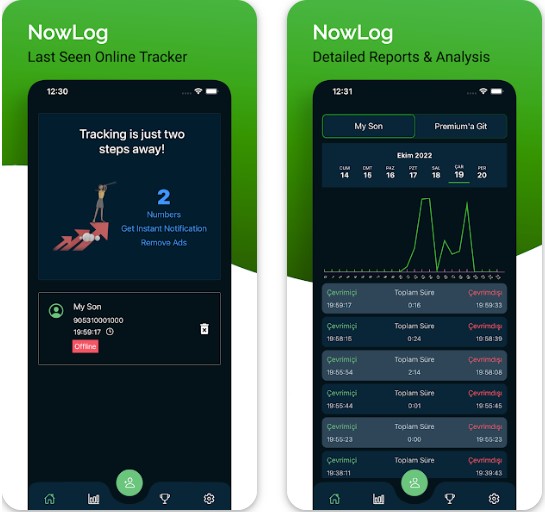 WaRadar: online last seen tracker
Here is the last but not least last seen tracker app. Is it efficient as well?
Yes, it is. The WaRadar tool will allow you to check the last seen time in WhatsApp. Apart from this, you will be able to view the minutes a user spent online. In addition, it will be available to check how many times the app has been opened a day.
These very features substitute reports very well. And the main thing is that you can track several numbers at once. However, if you need to compare their online sessions, you will need to do it by yourself.
Lastly, we can't imagine an app of this type without instant notifications. In this case, this feature is also supported. As a result, you will know about every time a user changes offline or online status. By the way, you can always adjust the notifications by disabling or enabling them.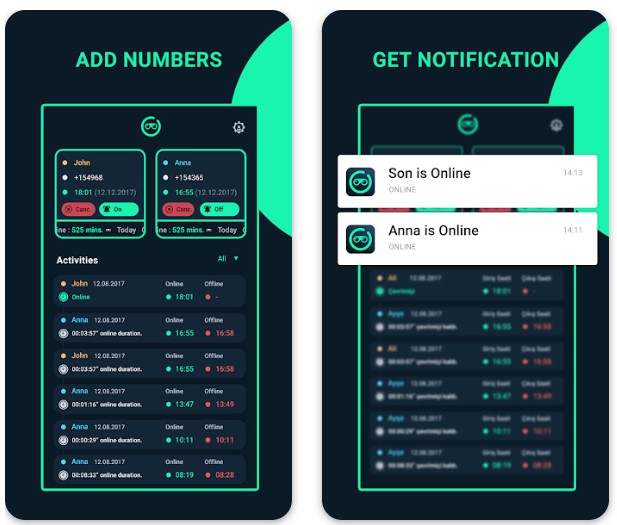 You may also like: 9 Best apps to watch Instagram stories anonymously
Powa: Last Seen Online Tracker
This is more simple online tracker app. In general, it was developed for parents for them to control the online presence of their kids. And thanks to this app you now can monitor the activity of your children in the online chat. The main feature here, of course, is the monitoring of the last seen status of a person.
The app can send you notifications both online and offline. What is more, the app provides detailed reports about the activity of all the contacts according to your choice.
The tracking is going on 24/7 and it never stops. But the best advantage of this app is the fact that it has a longer free trial period, which is much longer than in the case of the other apps. And even though it looks more simple and it is plainer in general, the last advantage can take it all.