If you are a musician or just fond of music, we have something interesting for you. Now you will not have to suffer from the monotonous music notes learning, as Sheet Music Scanner will take care of it. Due to this item, you can easily scan the sheet music, and it will quickly reproduce it in a melody.
Along with this app, you may also want to explore the best DJ mixing apps – in case you also want to create music for dancing.
Sheet Music Scanner app ensures a simple and intuitive interface that you will understand in a couple of minutes. The developers have not created too many unnecessary settings, that is why the menu page is convenient to navigate.
When you direct the incorporated camera to sheep music paper, the app will show you the way it sounds.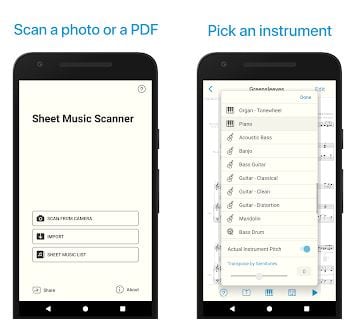 Moreover, the app is constantly updated, so we believe it will fully satisfy you! In this app, you will find a rich collection of musical instruments – from piano up to flute. The app also enables you to recognize musical notation symbols.  Sheet Music Scanner app offers you advanced export features.
It allows you to save and export music notes in such formats as PDF, MIDI, MusicXML, or audio formats – M4A/AAC, MP3, WAV. Or, you can work well with Dropbox, Google Drive, OneDrive.  Simply adjust your settings – choose the appropriate pace and tone, or you can connect only one voice or multiple ones.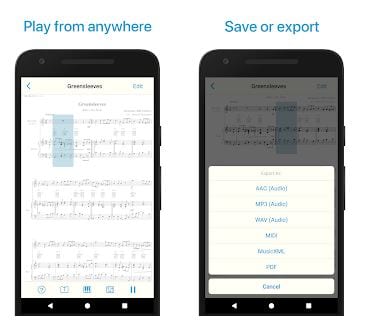 Besides, if you do not want to listen to the full melody, you can select any piece you like to play. We were impressed by its well-built minimalistic design that ensures simple operation. Sheet Music Scanner app also offers customer support. So, you can ask them any request, they will do their best to eliminate your technical glitches.
What is more, if you are into singing and sound production, you might also want to explore the auto tune apps. 
The price of the app is not expensive, so you can purchase it without any doubt. We recommend you to try the Sheet Music Scanner app, as it perfectly fulfills its tasks!