It's not a secret that eyebrows shape our glance, face, appearance. That's why it is extremely important to choose the correct form that is always individual. However, if you want to turn your eyebrows into ideal arches right now, we highly recommend you to install one of the following apps. 
The Apppearl team has found and reviewed the best eyebrow photo editor apps. They will be surprisingly suitable in two cases. Firstly, if you are still in search of your ideal eyebrows' color and shape, the apps from this very post exactly are what you need. In addition, these apps will be so useful in correcting your eyebrows on a photo.
We guess it's high time to install one of these amazing tools in order to look even more attractive.
1. Perfect365: One-Tap Makeover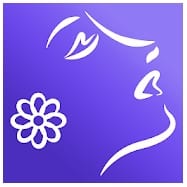 The first app on our list is called Perfect365. It is one of those ones that are deeply appreciated by all makeup stylists.
The app will provide you with all the necessary tools to perfect your eyebrows by coloring them. You will be able to choose any color from a wide range of them. Try them on to find out which one will suit you best.
Besides, you will have access to many other items of virtual cosmetics – lipstick, mascara, shadow, and so on. They will perfectly complete your makeup. Moreover, due to modern face detection, the result will be extremely accurate.
What is more, the app includes more than 200 pre-set styles developed by makeup artists. As a result, all the colors from this or that style will suit each other perfectly. That's why you won't hesitate if a color of eyebrows fits the whole makeup or not.
One more distinguishing thing that you will definitely like is Video tutorials by professionals in this matter. Each video will contain some priceless tips and advice on makeup, including shaping eyebrows. There is no doubt that it is one of the most complicated parts when applying makeup.
Finally, if you are puzzled about which product to buy (e.g. which eyebrow gel), the app will answer all your questions. Right there you will find recommendations and reviews on beauty and fashion products.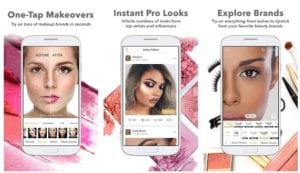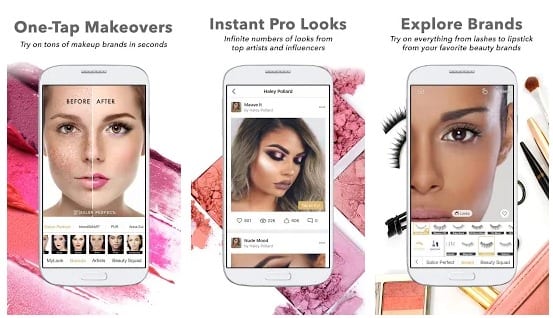 You may also like: Perfect teeth apps for Android & iOS
Apps that make you look skinny
2. Perfect Me – Body Retouch&Face Editor&Selfie Tune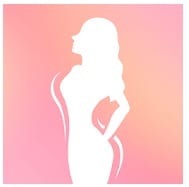 One more app that supports applying virtual makeup and correcting real one is Perfect Me.
The app will allow you to change the color of your eyebrows on a photo. The palette includes dozens of colors to choose from. Also, you will be able to reshape your eyebrows directly in the app. Thus, it is a great chance to find out which shape suits you best.
When it comes to editing other facial features, the app will become your assistant as well. It means that you will be able to correct your eyes, lips, nose; smooth your skin; and so on. Furthermore, perfecting body will be available as well. By the way, everything will be absolutely adjustable. That's why your edited photo will look natural.
Now let's go back to makeup. If you want to apply it on your face from the photo, install the app at once. A great variety of virtual cosmetics is waiting for you. Moreover, it will be a brilliant decision after editing eyebrows.
As a bonus, the app contains many other features to make your photo even more perfect. So you will be able to use various filters, add stickers, change the background, and so on. Everything will be in one place.
For your convenience, the app also supports sharing photos via social media.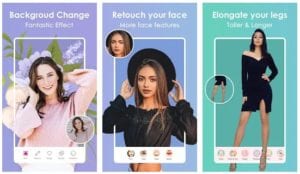 3. Retouch Me – Body editor & Face tune & Skinny app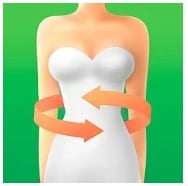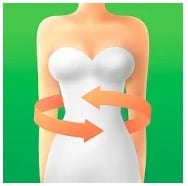 Retouch Me has become one of the most top-rated apps. What is a reason for its popularity?
The thing is that this very app has one quite interesting peculiarity. By saying this, we mean that not you but a professional will edit your photo. All you will need to do is to choose the features you want to be applied to a photo.
Though this service isn't free, millions of people from all over the world adore this app. The reason for it is the professionalism of the app's team. As a result, you will have your photo perfectly edited. Moreover, it will take just several minutes to turn an image into a masterpiece.
Now let's talk about eyebrows in more detail. After opening the app, you will need to open the "Makeup" section. Then, choose the "Eyebrows correction" option. In some time, you will receive your photo with perfect eyebrows back.
The app's correction can solve various problems regarding eyebrows. You will be able to make the symmetric, change their both form and color, remove different imperfections such as scars, and so on.
Apart from this, the app's specialists will help you to perfect your face or body as well as edit the whole photo. Your task is just to send them a request.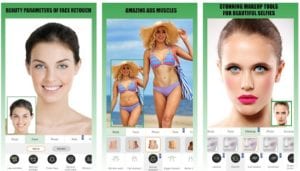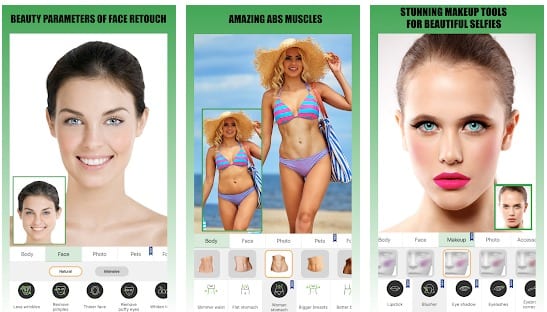 How do you feel about giving an accent to your eyes? If you find it appealing, here is our post about the best apps to change eye color.
4. YouCam Makeup-Magic Selfie Cam & Virtual Makeovers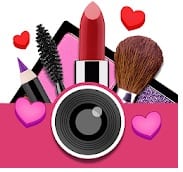 YouCam Makeup is one more well-known app capable of coping with that difficulty. Install it to make yourself sure how powerful it is.
The app includes a fantastic set of tools that will help you for sure. Thus, you can choose a color from the app's built-in palette. After that, your color will be tinted.
Just like in the previous apps, you will also have access to other tools that will let you apply virtual makeup directly on a photo. Moreover, you will be also able to dye your hair by choosing a color from natural as well as exotic ones. This feature also makes the app outstanding.
As for the additional features, in this app, you will find a fantastic skincare tracker. By scanning your face with a front camera, a unique AI system will detect the flaws of your skin and generate a report on a percentage base. As a result, the app will become your virtual cosmetologist with 24/7 access.
Also, you will be able to get some excellent tips and tutorials on how to do makeup. By the way, you will learn many interesting things about eyebrows too.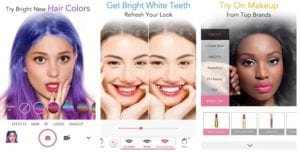 5. InstaBeauty – Makeup Camera!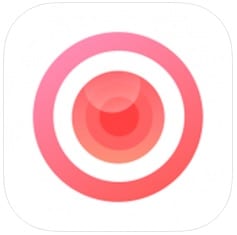 One more similar app with hundreds of capabilities is InstaBeauty. If you want to change your eyebrows fully, this app will suit you as well.
As usual, the app has all the capabilities in applying virtual makeup on a photo directly. Tone, lipstick, eyeliner… Everything will be at your fingertips.
Well, as we are interested in eyebrows, let's talk about them. With this nice app, you will be able to reshape your eyebrows on a photo. Moreover, changing their color will be available too. Thus, everything will be just like you want.
Plus, the app will be powerful enough in reshaping facial features. The effect will be as if you have just visited a plastic surgeon.
What else makes the app convenient is dozens of presets with ready-made makeup. Furthermore, each of them can be completed by the eyebrows of your dream.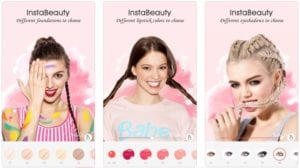 6. Eyebrow Editor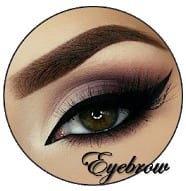 If you are focused just on eyebrows, here is the app that will become your best choice. Let us introduce the Eyebrow Editor app. Unfortunately, it will be available only for Android device users.
The app represents a gallery with dozens of eyebrows that can be applied to a photo of yours. There you will find natural eyebrows of different color, shape, and thickness as well as unusual ones. So if you a lover of exotic things, this app is a must-have for you.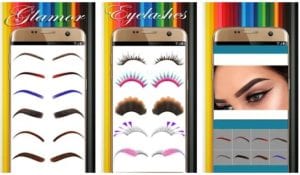 7. Browify – Eyebrow Photo Booth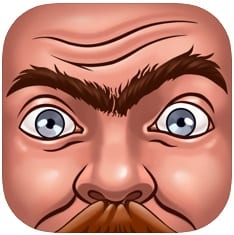 Do you need something to entertain yourself? If you give an affirmative answer, here is the app developed for you. It is called Browify.
To begin with, in this case, it will be compatible just with iOS gadgets. Now we want you to learn more about this funny app.
Well, it will provide you with several kinds of eyebrows that will cause only laughter. The app's library includes too thin and too wide eyebrows. The developer's proudness is considered to be a unibrow. Finally, the app will allow you to see yourself without eyebrows at all.
By the way, this very developer has more apps with related content such as mustaches, beards, and so on.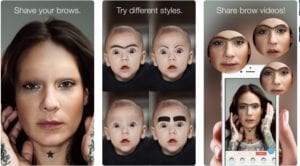 8. Lensa: Photo/Pictures Editor
The Lensa photo editor has a large set of built-in effects to give your photos a more stylish look. More than 15 types of tools are supported.
The first time you start the app, you are offered a demo photo on which you can test all available effects and modifications. As basic processing, the app offers horizontal and vertical reflection, cropping, and rotation of the image.
Also among the selfies editing tools, you will find all the necessary functionality for eyebrow spot editing. The intensity of each effect can be adjusted with the corresponding slider when applied to the photo.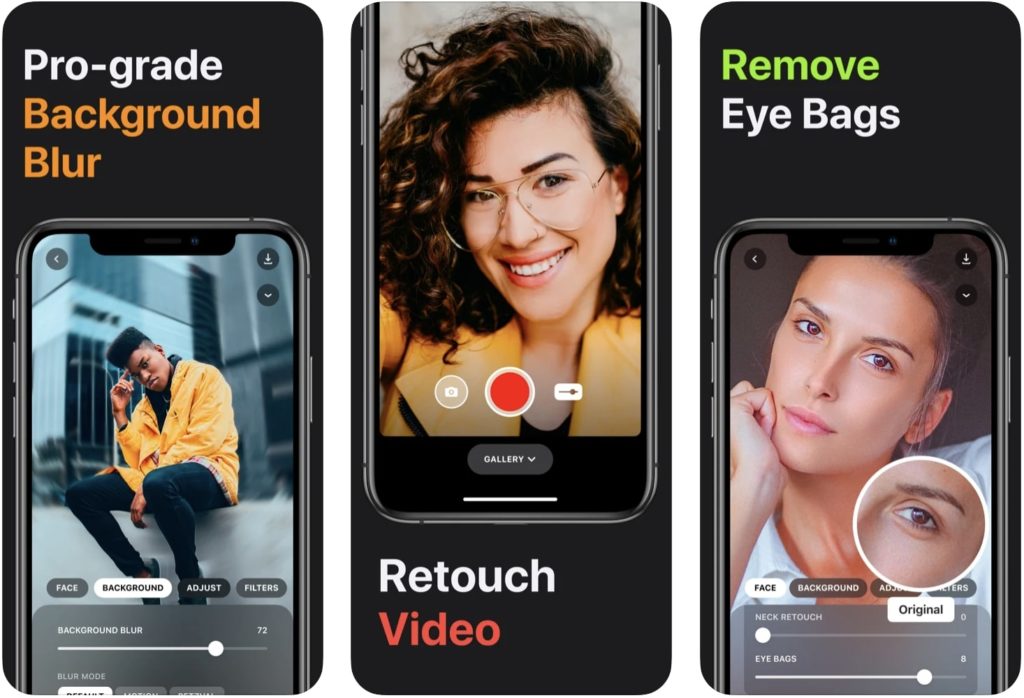 9. Eyebrow Editor App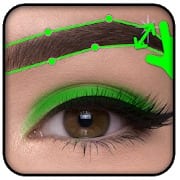 Still not satisfied? Try the Eyebrow Editor App then. With only several taps and a few seconds, you will have your eyebrows perfectly reshaped and tinted.
Right after opening the app, you will be able to choose any of the eyebrows suggested. Most of them are of natural color. But there you can also find eyebrows of green, purple-red, and so on. One way or another you will surely find something dear to your taste.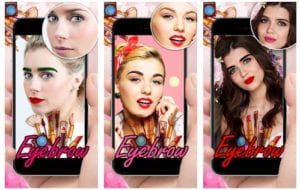 You may also like: 9 Best Mirror apps for Android & iOS