If you are promoting your Instagram account, you are probably concerned about your followers' activity. After all, the more reposts, likes, and followers you have, the more popular your account is. Some websites and apps track new followers, new comments, and many other useful features to get a good overview of your account activity.
In today's article, we will discuss all these things. Also, you will find Best Repost Apps for Instagram to be useful for dealing with Instagram. Now, let's get started.
1. Owlmetrics
This site is a versatile Instagram analytics tool with many features. Firstly, you can track all the key data of your account. For example, using this site you can find out about follower growth, engagement, usage of different hashtags, and click-through rates. Also, you can find out which posts your followers are checking more frequently.
In addition, it shows the total number of clicks, the average number of clicks per post, and how quickly the click-through rate changes. Moreover, it is even possible to track the accounts of your competitors. Besides, this service operates in real-time. So, you get reliable information, which, thanks to the handy toolbar, can be manipulated.
Above all, you are sure to love the feature that helps you choose the most attractive filter for your subscribers. You can also choose between hashtags as well. In addition, you will even be able to monitor their effectiveness. The other bonus of this site is that activity reports will arrive daily. That way you will know about your best posts and most effective tags.
On top of that, all this information is neatly presented in informative, easy-to-read charts for a quick activity check.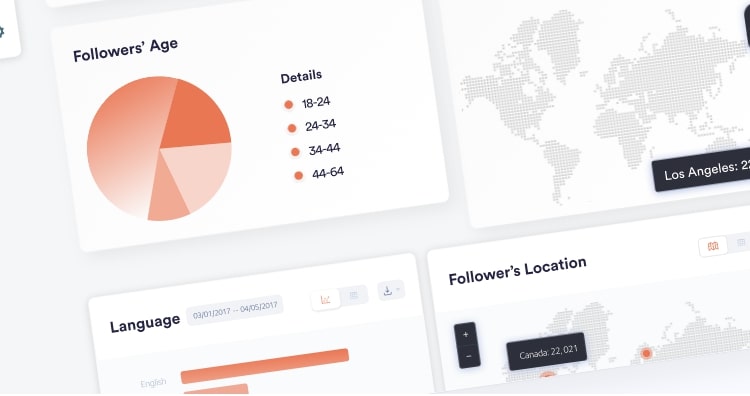 You may also like: 10 No crop apps for Instagram to upload full picture
2. Snoopreport
Snoopreport is similar to the site above but has its advantages. This site will help you quickly review your account. For example, you will be able to identify your most popular posts and hashtags. The site also monitors your account in real-time. The creators of the site claim that the site's algorithm is learning to recognize the most frequent trends in an activity that occurs on your profile.
In addition, you will receive the results of the monitoring in weekly and monthly reports in PDF format. At the same time, it generates a CSV report of all user activity which includes data about users, their posts, links, and other advanced analytics measures. All in all, this is a great service to promote your Instagram account.
However, this site is also known for another interesting feature, allowing you to track your friends and competitors by only using their Instagram usernames. This way, you can snoop around a bit and find out the preferences of your acquaintances. For example, you can find out the number of likes and reposts.
It is possible to add an account to be monitored, except for private Instagram accounts. This way, you can easily track the taste of the users you are curious about.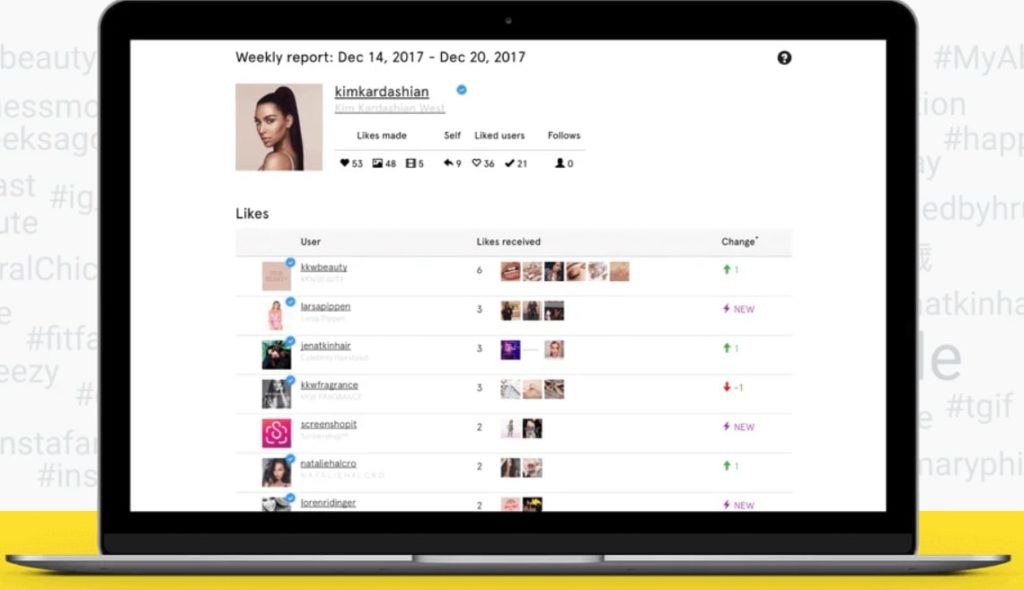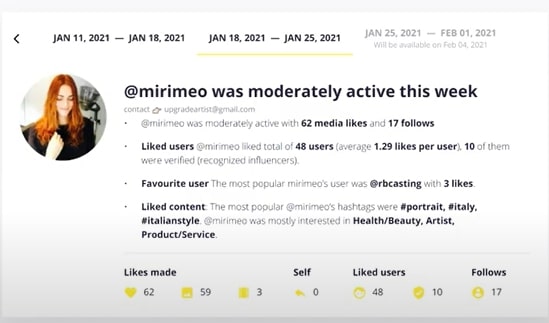 3. Iconosquare
In contrast to other sites, Iconosquare offers new users a 14-day free trial to experiment with the analytics tools. In addition, all this is without the need to enter bank card data. Even though some of the sites' tools are the same, it remains unique. After all, this site is set up to reveal the correlation between the frequency of your publications and the daily gain or loss of subscribers.
You can find out the number of tags and mentions, and access the details of your post activity. You can also find out the best day and time to publish. In addition, it lets you check the action of your hashtags and how quickly they gain popularity. You can also manage several accounts at once, for example, to make a post simultaneously.
That way, you can save a lot of time and manage your accounts more easily. Another distinctive feature is the ability to use ready-made content. For example, it is possible to open a media library with a huge number of high-resolution images.
Moreover, it features a smart calendar that reminds you when to publish posts to add structure to your profile. Also, you can promote your account with the help of bloggers analyzed by the site to find out if such advertising is suitable for you.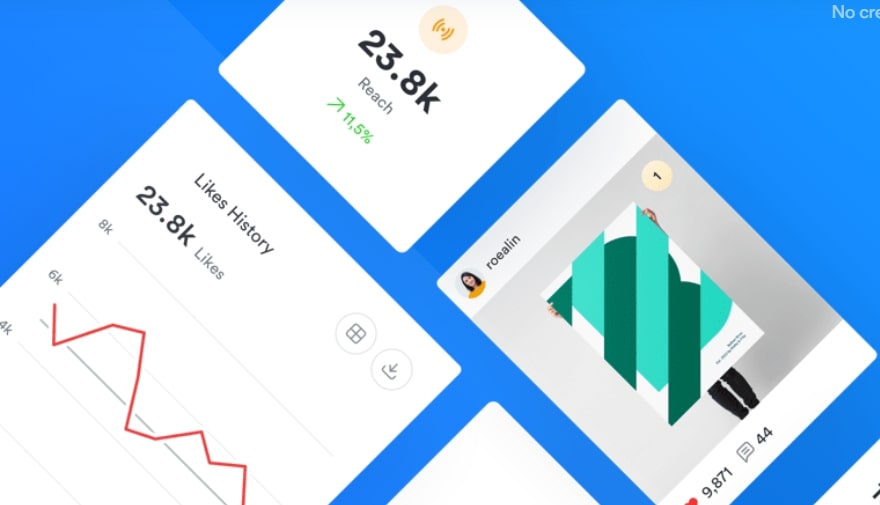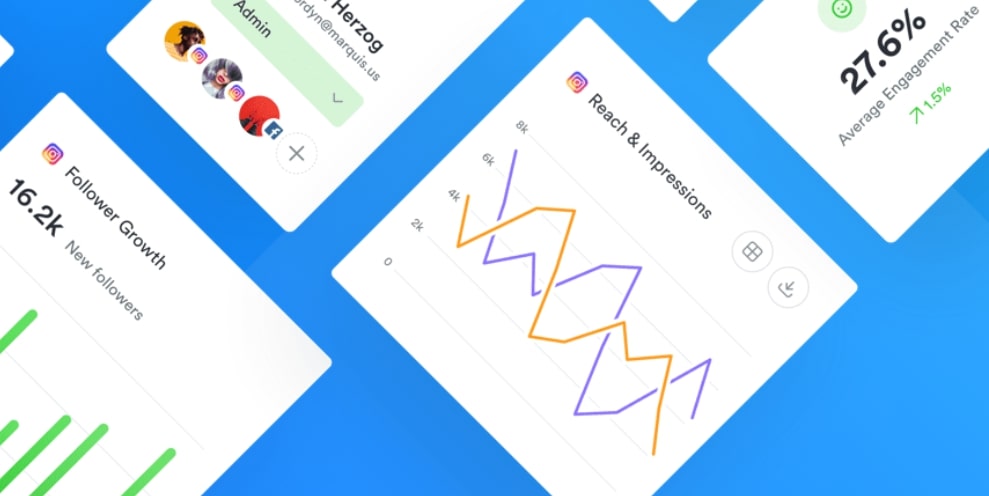 You may also like: 9 Best apps to watch Instagram stories anonymously
4. Sprout Social – Social Media
This app is a handy pocket activity tracker from the site of the same name. It is also a great tool for creating and managing content. The app has a handy functional content calendar for scheduling new postings. In addition, it supports several social networks such as Twitter and Facebook. However, you must have an account on the desktop version for this app for it to work.
So, for example, you can manage a centralized library of media files on the site, using the built-in editing tools. While on the phone, you will be able to view the quality of your work with push notifications. This app will help you explore the performance of individual hashtags or even geo-tagged locations.
Also, you will be able to analyze the activity of subscribers, and their growth for the day or month. Also, you will get reports here that you can export or download. In addition, the app offers you a trial version to test the quality of its performance.


5. Reports: Followers Tracker+ IG
You have probably wondered who is checking your profile. Who is active on your account or who has unsubscribed or unsubscribed from you? With this app, you can easily find out! This app is going to analyze your profile and give you some information. You can use it to keep track of new subscribers.
Also, you can see who is following you and excessively clicking on your Instagram profile.
You can find out who has unsubscribed from you and who you have not subscribed to in response. The app also has an interactive feature. This feature displays your level of interaction with your subscribers. It allows you to analyze the activity on your account and make it higher.
The higher the interaction level, the more activity subscribers have on your account. You can also add more accounts to the app so you can analyze them as well. This app is perfect for analyzing your account to promote your Instagram profile.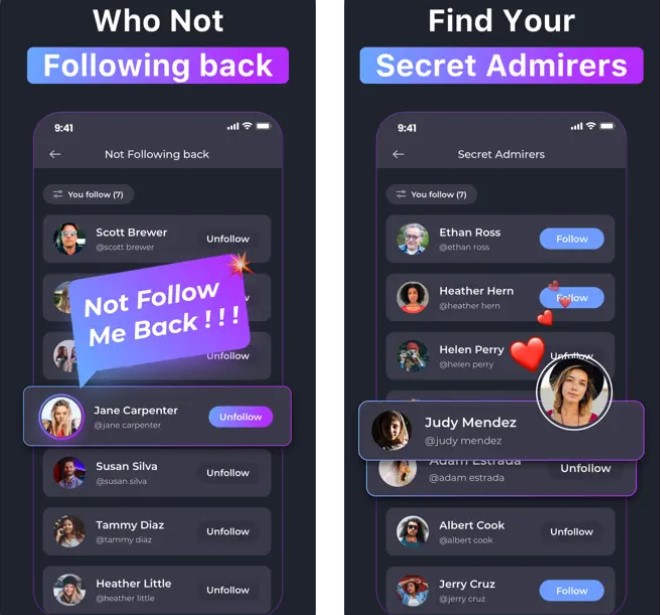 6. InStalker – Profile Tracker
This tracker is suitable for Instagram users who want to keep track of their followers' activity. This way, you can view the different profiles and their changes. First of all, the app will notify you if a private account has become public, or if someone has published a new post on IGTV.
Secondly, you will be able to make a list of the most interesting profiles to analyze. In addition, you will be able to see all changes expressed as percentages. Thirdly, the app will allow you to monitor changes in real time.
Moreover, the app will not ask for your data like username and password. This way, you can stay anonymous, but you can view all the activity of Instagram users you are interested in.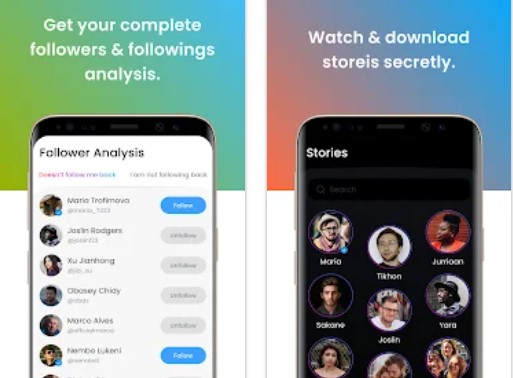 You may also like: 11 Best Instagram hashtag apps for Android & iOS 2022
7. InstaOnline Last Seen Activity Tracker
This tracker makes it easy to keep track of your children's activities on Instagram. This way you can add several of your kids. Meanwhile, this app will track everything your children post, like, and follow on Instagram. If you want to track your child's activity, whether they sleep at night, or consume the right content, then you can use this app.
All you need to do for this app to work is to link your child's Instagram account. This is a great app if you want to keep your child safe. In addition, all your child's activities will come as notifications, so you will always be aware of your child's activity. Also, the app offers a trial version to test it out.