It is a well-known fact that a friendly conversation is a key to happy relationships. Unfortunately, we forget about it quite often. However, we would like to present you with a must-have tool – Talk2You app. Let's read about it more deeply.
The app shows you a wide range of start phrases of different themes – child, future, intimate life, dreams, and so on. You will find all these categories on the menu page. Every category has its own color.
You can also explore the Bluetooth chat apps.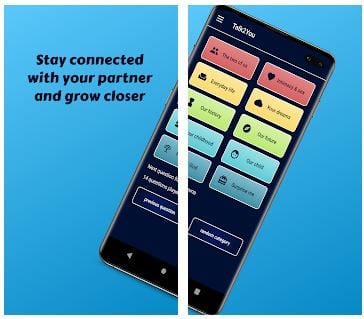 All you need to do – choose the most interesting categories and ask your partner a question. Moreover, you can skip the inappropriate question or even go back to the previous one.
In the app, you will find introduction data and a simple guide on how to use the app.
Besides, Talk2You app offers three categories for free, but you can purchase other ones at a quite accessible price. Nowadays it is not easy to find such a qualitative app that will not allow you to waste too much money.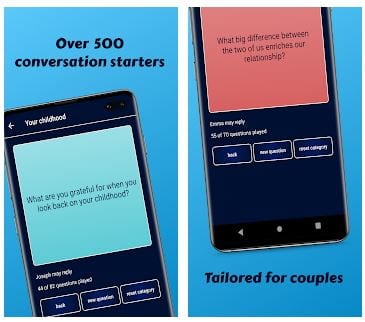 The app comes with a user-friendly interface, so you will not have to face any issues while using it. It supports two languages – English and German.
The app is quite flexible, so you can customize it according to your wishes. Talk2You app enables you to write the expected answer from your partner and then compare the results. It is the perfect chance to find out how you know each other!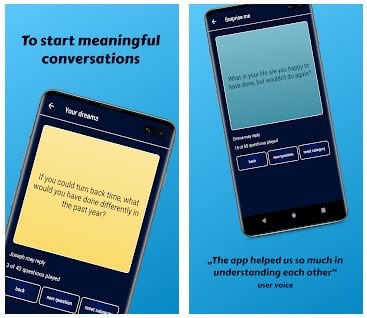 The manufacturer regularly updates the app version to satisfy all users' needs. In case of any issues, while using the app, you can contact customer support. The specialists are very responsive and they will tackle all your problems at any time.
If you like talking to people and get new friends, we can also recommend the ChatRoulette apps. 
Overall, Talk2You app is truly worth downloading. It helped many couples to enhance their relationships. We have not found any flaws in this app, so we believe it will fully suit you and your partner!