Speed Dial is a free application for your favorite messengers. Features of such apps include the ability to organize contacts into groups, such as family, friends, work, emergency, and more. Just select a tab and add the numbers you want from people's contact lists. They all aim to organize and simplify your use of the phone.
And in order to always have time for everything and be more multitasking, we suggest paying attention to these applications. It can help you divide your phone screen into two independent parts. If you have a necessity for frequent calls and conversations with people Speed Dial app is the best solution. So let's review.
1. Speed Dial – Smart T9 Dialer
This app allows its users to make calls or send texts to other users instantly. All you have to do is customize Speed Dial – Smart T9 Dialer according to your requirements. So you can organize it in such a way that with a single press you make a call, while with a long press you are sending a text message. In particular, all the commands are available to you in the menu.
You can customize the duration and number of presses to assign them to certain values. The application contains a number of interesting functions. So you can always organize contacts into specific groups such as family, work, emergency, friends, and many others. It is worth considering that the limit of groups comes up to ten.
Despite this, you can add an unlimited number of contacts to each group. We think that this is enough to organize your phone book. Speed Dial – Smart T9 Dialer is also equipped with a quick smart search T9. It is designed specifically for both right- and left-handed people. In addition, it is possible to make calls or send SMS by voice input.
Just give a command and you already call your loved ones. Also, the application is provided with the reminders function, which can also be enabled in the settings. You will be able to set a reminder, for example, to call a daily need to call a subscriber. The same application can be easily edited. Users can change the shape and color of the Speed Dial – Smart T9 Dialer's icons. Also for convenience, there is a dark and light mode.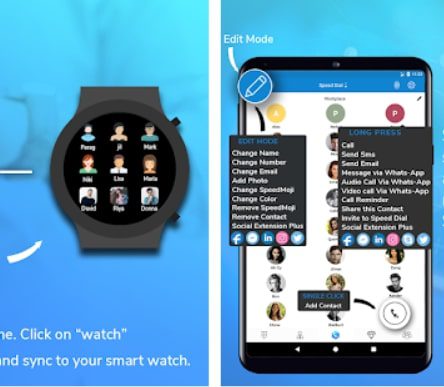 You may also like: 10 Best Bluetooth Chat Apps in 2021 (Android & iOS)
2. Speed Dial Widget
To always stay in touch with your surrounding, try using the Speed Dial Widget. First of all, you can use it to organize your contacts. Then you can use individual groups as a speed dial. For the second, as for the actions, we can say that here you can use quick SMS and calls via WhatsApp, Skype, Facebook, and other messengers.
On the third, users have the ability to set actions passing to the settings tab by a double or single touch. Otherwise, select a serial command for each contact. You can perform actions directly from the home page of your smartphone. All you have to do is add a widget. As for those widgets, you can not limit yourself and add them as many as you like.
In order to organize your contacts, you can always use the contact grouping feature and then add an unlimited number of contacts to them. For example, you will be able to create a family chat and send some urgent messages instantly. In addition, Speed Dial Widget supports Dual Sim.
You can also always restore the data. After all, they are kept in the memory of your account. Also for those who like to adjust the Speed Dial Widget for themselves is always possible to change the color and shape of contact icons.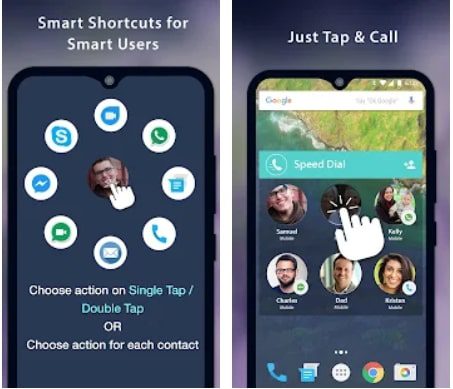 3. Speed Dial
Speed Dial has as simple a name as it uses. All you need to do is allow Speed Dial to access your contacts. This application is very easy to use. Select the desired contact and its icon will automatically appear in the application. It is also important to note that you can add an unlimited number of contacts.
It would be enough to edit a contract. You need just swipe to the left. This application looks quite simple and does not have a lot of features. At the same time, it has a specific focus and quickly allows you to contact your contacts. To assign an image to each contact, just click on the number and change the photo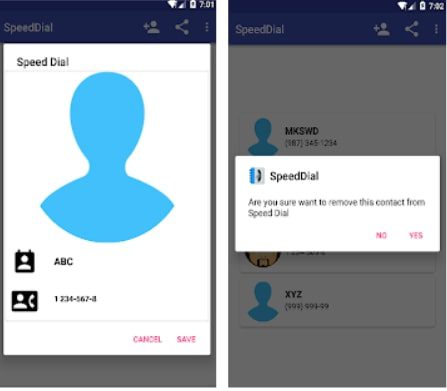 You may also like: 11 Best Anti-Procrastination Apps (Android & iOS)
4.
Speed Dial Lite
This is a simple application that will help you dial a number quickly. A total of 120 contacts can be added. Then you can assign a specific picture to each one. You can also create groups such as family friends and add funny animations to them. You can also set up long and short clicks for specific parameters.
All features you will see in the settings. For example, you will be able to edit the name and what action to assign a contact. In other words, what happens if you click once on the icon. Will you send an SMS or make a call? In addition, you will be able to adjust the size of the icons to make them very small, medium, or large.
Speed Dial Lite has a full version for which you will need to pay a little extra. However, even with the free version, you will find a lot of interesting features. This application will be convenient to use as an organizer of your workspace.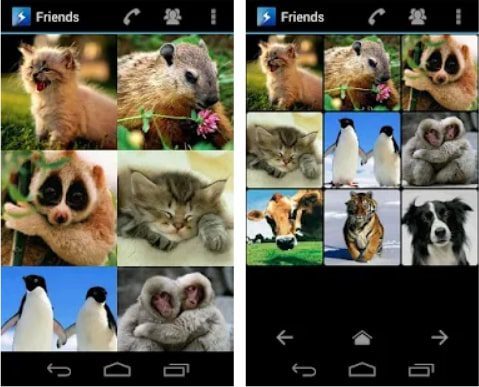 5. Dial+ (speed dial, Widget dial, one hand mode)
Dial+, one of the best dialing apps on the iPhone. It allows you to view the names and photos of the people who call you. This app allows you to gather all the apps and ways to communicate with people in one place. This iOS mobile app is easy to use. It creates a photo address book on your smartphone.
All you have to do is sign up for the Dial+ and let it use your information. The interesting thing about this app is that it allows you to personalize the interface. So you can create a skin you are interested in. You will be able to choose colorful pictures or familiar to you classic themes on the dialing.
Dial+ also works with contacts. So you can assign a picture to each contact. The application can be used with one hand. The developers have taken care of the owners of large versions of the iPhone such as the iPhone 6 +.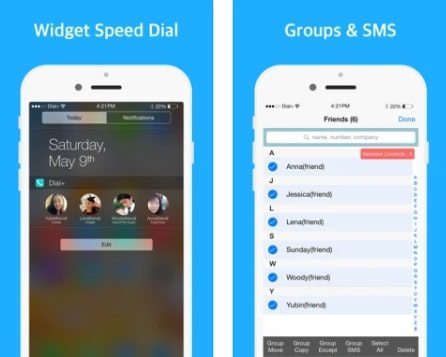 6. Call Widget: Speed Dial Pro
Call Widget: Speed Dial Pro is also compatible with the iPhone. Moreover, it is designed specifically for version 14 of iOs. That is why you will like the widgets here even more. Because now you can add them to your home screen. First of all, you can edit and customize a specific photo for your contacts.
The new Call Widget: Speed Dial Pro update allows its users to edit the size of the icons and also customize their skin and theme. Secondly, users have loved this free app for its lack of ads and very cute widgets. To make a call or send a text message you need to click on the photo of the person and you're done.
Additionally, you will be able to assign a name, photo and completely change the icon of the contact in the settings. It is worth mentioning that Call Widget: Speed Dial Pro differs from other applications by its modern design and pleasant layout. This app is great for all your messengers.


You may also like: 10 Best Speaking Alarm Clock Apps for Android & iOS.
7. Speed Dial For Call, WhatsApp
Do you have too many contacts in your phone list and you do not know how to organize them? This app will help you understand what to do with calls and texts from WhatsApp, FaceTime, and Email. This way you will get an app that will help you optimize your contacts. You can easily reach the contact you want with a single or a long click.
You can also edit the icon and change it easily in the settings. So you are able to customize the photo to be round, square, and with rounded corners. In addition, you can adjust the interface of Speed Dial For Call, WhatsApp. Speed Dial For Call, WhatsApp more than 300 built-in themes, and different gradients.