Photo Editor is the thing without which it is difficult to imagine a smartphone. Now, this program is always at your fingertips with no need to spend extra time editing photos on a computer. In addition, all photo lovers can improve their pictures with the phone up to the incredible beauty.
So, this article contains a review of the best apps that can help you lay a flower-patterned framing. Moreover, all picture lovers can add new layers to their shots with ease using the article Best Photo Overlay Apps.
1. Flowers Photo Frames & Flowers Borders Effects
This editor will make your pictures more vivid and captivating. It is one of the most suitable photo processing apps which stands positively rated in the App Store. Once you open the app, you may see a white-red interface and custom editing features.
You can effortlessly add frames with roses to shots and share them with your loved ones with the help of this app. For this feature, you need to pick a photo from the gallery you want to edit or take a snap with your camera.
Then the platform shows you an expansive scope of styles and various frames that you can use for any pic. In addition, you could not only grab frames, but also add various effects to them, for instance, add one color like gray or rad, try black-and-white feather, and so on.
Besides, you can send the edited result to your buddies right from the application.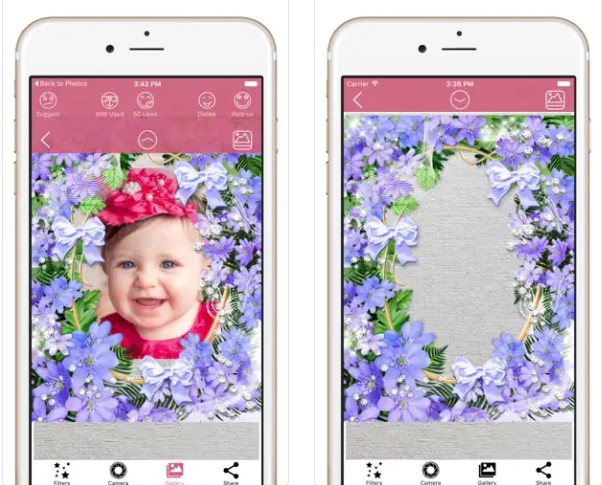 You may also like: 11 Best Photo Booth Apps
2. Flowers Photo Frames PhotoFram
Flowers Photo Frames PhotoFram includes little functionality but does a great job. This app invites you to decorate your photo with stunning blossom frames. As you enter the app, you are prompted to choose a frame you fancy. Then you can upload your shot or take a snap with your smartphone camera and smoothly download it.
Besides, you may drag the image around to make the photo frame look smooth and attractive. There are also a bit more features in the app. For example, you can compose a text or add emojis to a pic. There is also a chance to retouch the photo and crop it. There are over five hundred frames in the program, so you may find a suitable one so fast.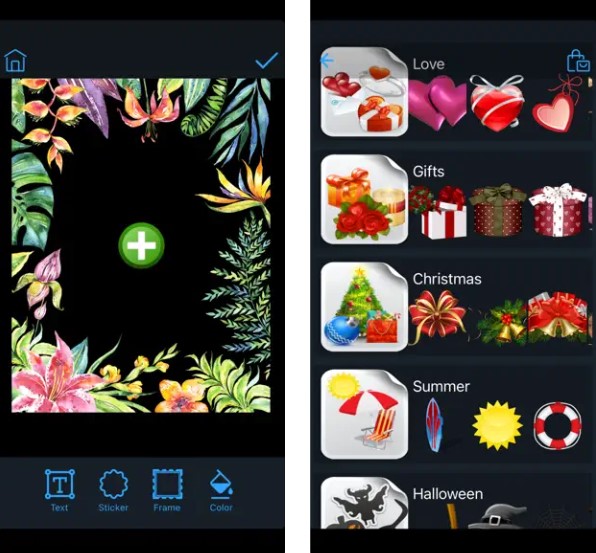 3. Flower Photo Frame
Flower Photo Frame is a couple of clicks program that requires little effort to perfect your photos. This soft prompts you to check out frames with colors and shades to add to your image more contrast. This app has a striking and trendy collection of birthday photo frames with diverse variations to complete and make photos more colorful.
Through this platform, not only can you add frames to your shots, but it can also add superimpose a gorgeous phrase, decorate images with stickers, and crop and manage your new framed images with a variety of features. Likewise, the result can be shared immediately on all social networks or sent to your pals via message.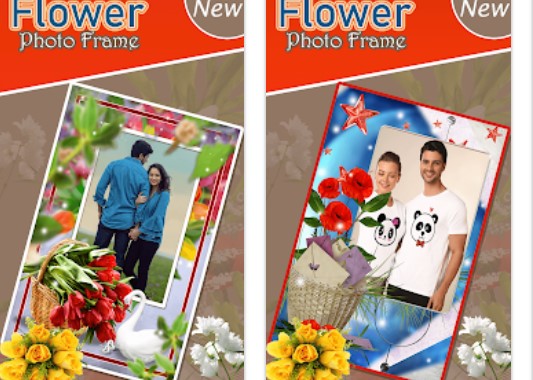 You may also like: 11 Best Free Photo Storage Apps
4. Lovely flower photo frame
The following program creates magical things with your photos within moments using the flower-patterned frame app on Android. This app presents you with more than 30 ravishing flowery photo frames to help you illustrate your memories. You can easily apply frames to your photos.
It will require you to choose a photo and apply one from the suggested thirty frames. After that, the program presents you with a pack of tools to effortlessly edit your images. It lets you add text, emojis, retouch and use impressive effects. This way your shots can be improved as you want them to be.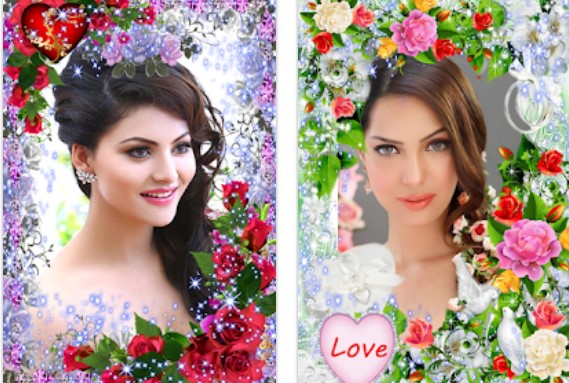 You may also like: 9 Best Photo Grid Apps
5. Flower Photo Frame
If you are a flower lover, then certainly this one is right for you. Thanks to this program you may edit and pick photo frames for all of your pics. It offers you a free app on Android. You can easily edit your photo in a few clicks. All you have to do is upload your image and choose the right photo frame.
Then the app will do it all for you. Also, you can adjust and make your photo even more nicely. The app has some photo effects with an auto-focus feature that will help you make your picture frame look like a pro one. In addition, you may write a lovely wish and after that crop your photo.