Slack is a collaborative hub where you and your team can work together to make things happen. This is where you can do everything from starting a project to discussing a budget and all the things that come along. There are around one thousand applications that you can integrate into Slack. All of them are aimed at increasing productivity, analytics, and scheduling.
So in today's article, we have gathered the best apps for anyone who actively works with this corporate messenger. Also, for office work, you may need document apps, which you can check out in the article the Best Apps For Spreadsheets.
1. Trello: Manage Team Projects
Trello is an extremely well-known app that is used for organizing personal affairs and business. When the user first enters it, it may seem very simple and primitive, however, this is wrong. In the beginning, you see a screen where you are asked to create a board, which means you have to type in a name and choose a background. Then you can create boards.
Each of the boards has a name, a description, and an action. The title will be visible on the board from the outside, but all other information is hidden inside the card and only some information can be displayed on the cover of the card. You can add tags and a checklist to the card.
First, the tags are visible on the outside of the card and help to distinguish the particular board from the others, as well as to assign a role to each one. The second, but no less important function in a board is the checklist. So, you can create a checklist with a specific name, such as Task List or Project Info.
Then you can enter the items you want to perform, and then mark them as you perform something. Each completed action will stay on the checklist and crossed out to show what you have or have not completed, as well as the amount of work you have done. You can also create deadlines for any given task on the board.
This way Trello will remind you in advance that the deadline is coming up. And the app will change the color of the time marker on the board depending on how much time is left before the deadline.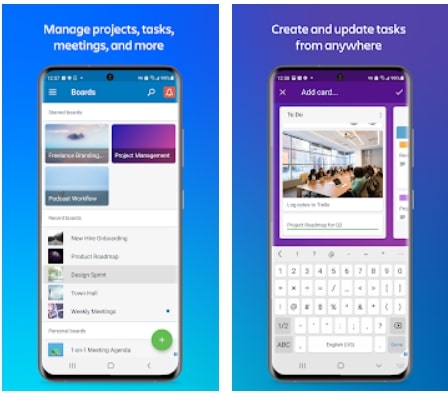 You may also like: 15 Best document scanner apps for Android & iOS
2. Google Drive
Google Drive is considered one of the most feature-rich applications out of the cloud storage apps. Not to mention the fact that Google offers 15 free GB for each user forever right from the start of usage. In addition, it is possible to create documents inside the storage space.
So, you can always quickly create texts, tables, presentations, folders, sites, maps, drawings, and forms. Also, this application has advanced encryption technology. This means that not even company employees have access to your files. There is also an option to enable offline access to the desired files.
In addition, cloud storage is part of the Google system, which means quick and easy integration with its other services like Google Calendar, Gmail, Google Photos, Google Keep. Using Google Docs, Google Sheets, and others, you can create and edit files right within the service.
In addition, one of the important parameters of this application is that Google Drive is very convenient for collaborative work. You can give other people different levels of access to files to work with: Reader, Commenter, or Editor. There is also a modified file history, which is useful, for example, if you want to recover a previously deleted fragment.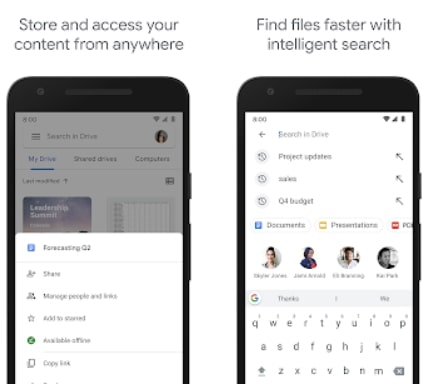 3. GIPHY
An animated image conveys information in just a few seconds in a compact form, capturing attention and attracting users. If your team is interested in this format, GIPHY is the app for you. After all, you can use the app to create quality content. This is the most popular catalog of gifs from around the world.
You can also search for files by keywords, as well as by trending topics, events, movies, and more. With the help of a search, you can find absolutely any animation you need. Moreover, you can add those GIFs you like to Favorites, or download them to your device. Then you will be able to send files directly via this application.
Also, you will be able to make a GIF from a personal video taken on your smartphone. In addition, you can make a GIF from multiple photos. You can easily add stickers and captions to the GIF if you want. It is also possible to apply filters here. An important aspect of this app is that it does not put a watermark on the GIF, meanwhile, it is completely free of charge.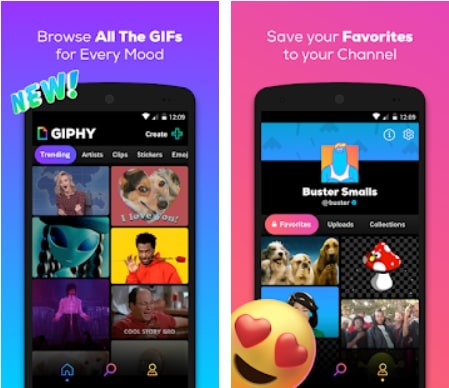 4. Hangouts
Hangouts is a messenger that allows you to communicate with other people via text messages and video calls. So, for example, you can open the application, complete a basic registration, and then you can start a dialogue with your colleagues at work. To do this, you need to click on the Plus sign at the bottom of the screen.
Also, you can either start a video meeting or a chat. In each case, a standard list designed to find participants will appear. All you have to do is enter a phone number, name, or email address into the search bar. After that, you can invite the user to join your conversation.
In addition, you can change your status, which will be visible to all people who are in your contacts. Moreover, you will have the ability to archive some chats if they distract you. In addition, Hangouts works as a great solution for group chats with a large number of people. Moreover, if you are a Google account holder, this application will serve you as a free tool for chatting.

5. Asana: Work in one place
Asana is a great platform for personal and team project management. You can set tasks for your employees, schedule time, and keep track of the status of completion. Also, there are various task board templates for different teams, such as software developers, designers, product managers, marketing specialists, and others.
At the same time, the head of the project can customize boards for each team, for example, by changing their design. In addition, this application has both mobile and desktop versions, which will allow you to always be aware of all that is going on. Asana is also easy to use, which makes it a very attractive tool for small teams.
You can use the software for free if you have 15 or fewer participants. At the same time, the premium version will offer an unlimited number of participants. Also, it is a versatile platform because it combines team collaboration with file storage and project management.
In addition, your team members here will receive personalized notifications. It also has different folders where you will see the progress of your team's work.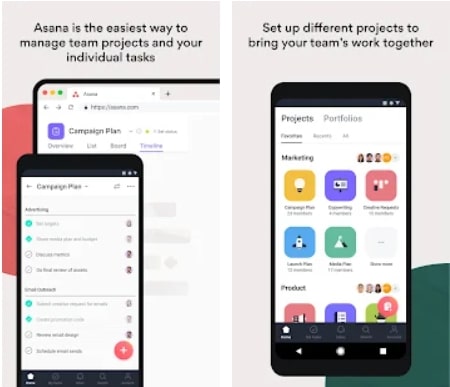 6. Microsoft Outlook
This application acts as an assistant to collect all emails in one place. So, this app can simplify interactions with partners, colleagues, and your entire company. Outlook is Microsoft's premium email client and it is considered one of the best for business. This application is designed for those who use email all the time because it has a lot of features.
First of all, you will be able to view and send shared mailboxes. In addition, you will have access to public folders. Moreover, this application automatically categorizes your emails. And since it is a Microsoft product, the application is compatible with other applications from Office. In addition, the contact list is stored here.
It also allows you to line up tasks and view your colleagues' calendars. While there are many features here, the app has a system that hides countless buttons and functions. That way, you do not get distracted from your tasks.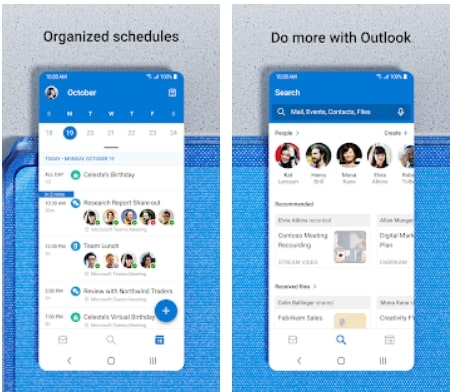 You may also like: 11 Best employee attendance tracking apps for Android & iOS
7. IFTTT
You can connect Slack with IFTTT to get information about new posts, in other words, to view your favorite feeds, such as trendy pictures from Instagram by geo-tag. In addition, this app has a modern interface that is a pleasure to work in. Moreover, there are many possibilities to link your accounts to different social networks and other services.
Also, this application lets you link almost 600 web services together. You can use it to automatically take action on one service when something happens in another. Examples of such actions can be selected among the thousands of ready-made ones or you can create your right in the application.
Moreover, the app can be used for different categories of services, such as collaborative blogging, your company's social network, cloud storage, services for creating notes or to-do lists, platforms for surveys, and mass emails. So, this app is an excellent solution for using multiple apps and services at the same time.


8. Timetastic
This is a convenient app to help manage employees' weekends or vacations. This way, the app automatically schedules everything. Moreover, it also takes into account employees' requests, who can send their wishes to the application.
Also, this application quickly checks the presence of employees in the office and those who are not. It automatically displays a list of absent employees in the selected Slack channel. In addition, this application has a nice interface and bright graphics, which allows you to quickly focus.
Moreover, the app supports Dark Mode. This app can also help employees know how much time they have left to work during the month and the amount of time off they can take.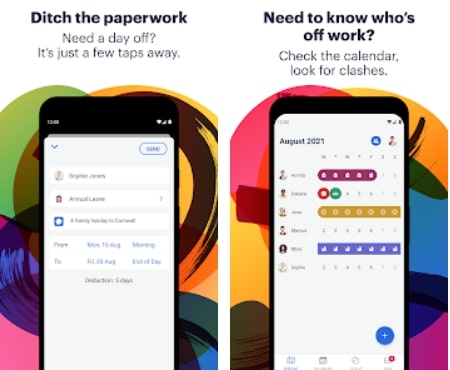 9. AppFollow: app review monitor
If your organization has its app, then this tool is just for you. So, using this app, you can monitor App Store, Google Play, and Windows Store. AppFollow helps you keep track of activity related to your mobile app.
Here you will be able to track user reviews, sales statistics, number of downloads, ratings, keywords, updates, and other parameters related to the promotion of your mobile app. Moreover, this app helps not only to track but also to promote your app in Google Play and App Store.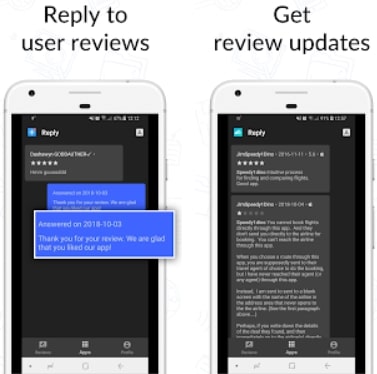 10. Canva
Among the applications in Slack for creativity and comfortable to work on design layouts is Canva. So, this is a free graphic editor, which is great for both design beginners and skilled professionals. The service allows you to quickly and easily create cool posts for social networks, creative videos, presentations, stories for Instagram, and other visual materials.
Canva has hundreds of templates for different tasks from presentations, social media posts, posters, postcards, and videos to booklets, to business cards, animated Instagram postings, and gifting cards. Moreover, you will be able to change every part of the template, for example, add photos or text.
You will also be able to drag and drop images and resize text. In addition, you can use different font styles here. Also, you can use this app to create joint presentations as well as other projects.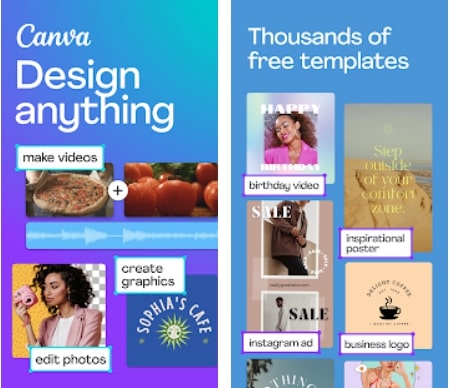 You may also like: 15 Best notepad apps for Android & iOS
11. Health Hero
Office workers need to stay active. So, this app will motivate colleagues to move more. This app will motivate your coworkers to move more.
In addition, you can fill in brief information such as name, date of birth, e-mail, and even the website. Moreover, you can add a photo here. This way, everyone will see a leaderboard with all of their colleagues. In addition, this app supports various fitness bracelets.