Sometimes gaining weight is even more difficult than losing it. Besides, problems like calorie deficiency, a particular body structure, a metabolic disorder, and an unstable emotional state cause challenges in weight gaining. The most important thing when you desire to improve your body is to maintain regular and proper nourishment.
This applies to both the nutritional value of the food, as well as its quantity. So we have gathered apps to pay more attention to your lifestyle. Apart from that, we offer you the article Best Gym Companion Apps, which will make exercising even more productive.
1. Fasting – Intermittent Fasting
It is an assistant that presents you with the notorious interval fasting. The idea of the system is to compose a fasting watch that would make you insensitive to carbohydrates with a high glycemic index. This means you will actively burn fat and pump muscle. You can choose a fasting pattern in the settings, either a beginner's or an advanced user's schedule.
There are three fat-burning plans, for example, the most popular one offers 16 hours of no food and 8 hours for eating. It is also possible to enable or disable notifications when the period begins or ends. It is worth noting that sticking to such a diet is also pleasant thanks to the interface with a handy fasting timer. In addition, it is possible to adjust the drinking habit during the fasting period.
The water balance tracker will remind you to drink zero-calorie drinks such as water, black and green tea, or coffee. The drinking ratio is calculated specifically for you. There is also an option to record weight changes. At the same time, you will be able to determine your optimal weight right after running the platform, it will mark your parameters and sum your optimal weight for gaining.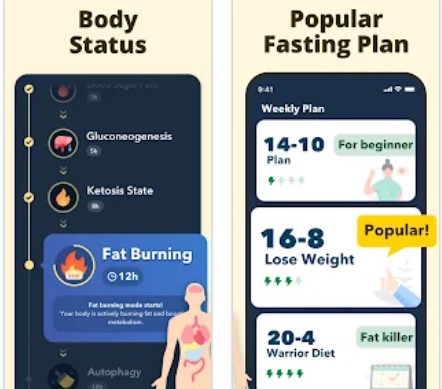 You may also like: 6 Best Pull-Ups Fitness Apps
2. Lifesum: Healthy Eating & Diet
This is a food journal for those who are going to gain weight through proper nutrition. It contains daily recipes and tips for keeping a wholesome lifestyle. This planner customizes your diet with a full description and history. The program is equipped with a calorie counter and a cool barcode scanner feature, which allows you to take notes much faster.
This highly-rated program is completely free to monitor your calorie, protein, fat, and carbohydrate intake. It also has food and meal ratings. Each new meal changes your daily rating, which motivates you to eat better and healthier. The platform also has other useful features. For example, there is a quick quiz with questions on goals and habits to personalize your menu.
And to make cooking recipes even easier, you will be given step-by-step instructions here. In addition, you will be able to use not purely a food tracker, but also check your water, vegetable, and fruit intake. Another bonus is activity monitoring, for this, you just need to allow the program to record data. This way, your rating will also be influenced by your workouts.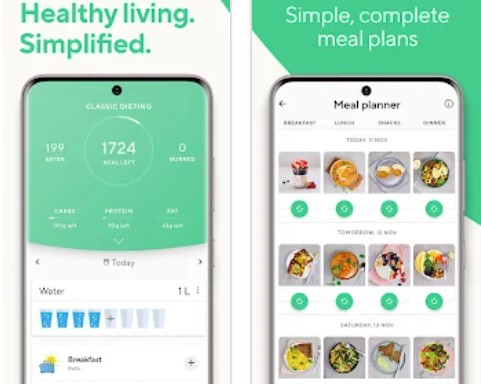 3. Gain Weight for Women and Men – Diet & Exercises
The program offers weight training in just 30 days. After installing it, the user receives a personalized training plan with simple workouts that can be done at home. The workouts themselves are made up of animated video and audio instructions for a wide variety of exercises. The training plan from several minutes a day takes into account, first of all, your parameters and your goals.
You can also choose the problem zones to get in shape. In addition, all your achievements will be displayed in real-time. Despite the laconic functionality and interface, all physical activities and food intake are marked. Under training, you will find a list of exercises that you have to perform on certain days. You will be able to choose a workout plan that suits a particular muscle group.
In addition, your diet schedule is already set for the whole month, so you will not have to worry about what to cook. Moreover, the program allows you to make a grocery list containing lacking products in the fridge for the customized recipes.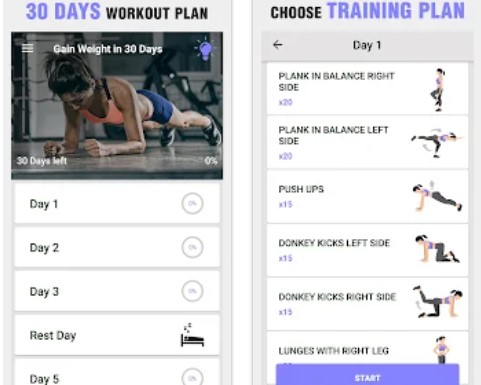 4. Calorie Counter by FatSecret
This is another food diary that has integration with popular fitness apps. The program will take a survey and make an approximate meal plan to reach your goal. So that you will be able to adjust your diet considering total calories, amount of protein, fat, and carbohydrates consumed, as well as workouts.
There is a large database of products, which also includes dishes from popular restaurant chains. In addition, the program takes into account the amount of sugar, fiber, sodium, and cholesterol. Also, there are statistics for the day, current and last weeks. In addition, you can determine approximate calorie burn by choosing from several types of activity.
It is also a community program for people who are conscious about their nutrition. That way, you can pick up new ideas and stay motivated thanks to other users. You can share your diet, food photos, and achievements, too.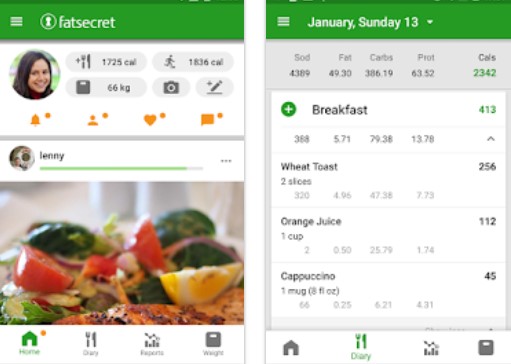 5. HealthyDiet – A Diet Plan App
The main focus of the HealthyDiet is to plan a diet that suits your goals. You can set your health parameters, real and desired weight, height, and age in the program. Then the program will evaluate the required calorie ratio. It takes into account your aims of either safe your current shape, losing weight, or gaining weight.
You can choose foods from a list or use a barcode scanner when entering a meal, both are very convenient. It is also possible to type in your meals if they were not on the list or enter the calorie value of your custom recipe. There is no need for a trainer or a nutritionist with this tool because it sets all the goals on its own. Once you set a goal, the assistant will count the approximate time to achieve it.
For example, you will know when you can gain 3 kilograms. It will also count your activity so you do not have to download other programs to find out how many steps you walked today. This tracker is also good because it compiles some random workouts and diets. Some of them take into account your lifestyle and others your taste preferences.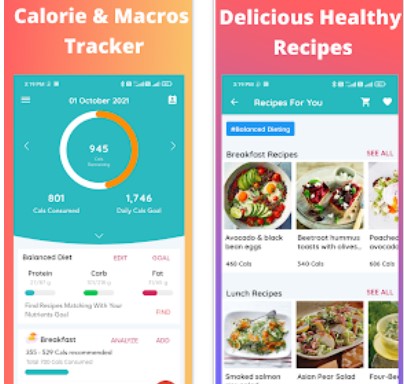 6. YAZIO Fasting & Food Tracker
YAZIO is a functional digital journal. It is also a diet and workout diary in which you can keep records of products and exercise. Among users, this program is known as a calorie counter with decent functionality. It also allows you to make and use a personalized good for health weight gain plan. You will be able to track changes in chest, waist, and hip size.
The tracker gives you access to a calorie table of more than 2 million foods by scanning barcodes. There you can check out a special food rating system with more than a hundred wholesome recipes. Also, you can plan your meal schedule for several days ahead. In addition, you will be able to copy the notes for any other date, activity, and achievement data.
There is also synchronization with several fitness programs, including various calorie calculators. In addition, this functional program is regularly updated. And you can also monitor your progress over the past thirty months.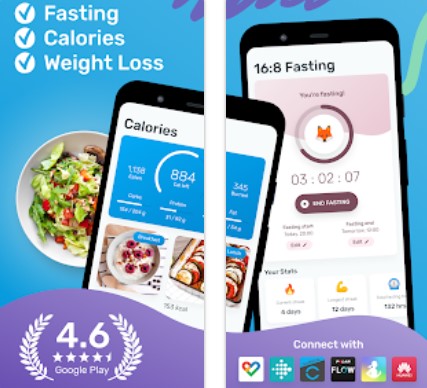 7. MyFitnessPal: Calorie Counter
This is one of the highest-rated apps with effective workouts and a unique nutrition plan. In addition, it is a simple and easy-to-use meal planner. Besides a calorie count, MyFitnessPal users can monitor their water and nutrient intake. Also, it can figure out proteins, fats, carbohydrates, sugar, fiber, and cholesterol.
Another feature of the app is the extensive database of restaurants, foods, and meals. You can take notes either by hand or with your smartphone camera. Just point the camera at your plate and the program will identify the food itself. You can also scan barcodes.
Also, you can make a list of the most frequently used dishes, add your recipes and evaluate their calories with the division into proteins, fats, and carbohydrates. Another thing worth mentioning is the ability to view statistics on the calories and nutrients of meals. You will be able to track the dynamics of weight gain over days. In addition, this healthy tool will allow you to stick to your goals and stay motivated.
After all, you will be able to track your progress and get tips on how to reach your goal. Moreover, the results of your diet and workouts can be downloaded as a file.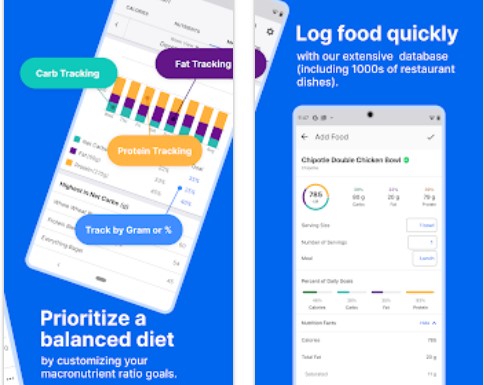 You may also like: 7 Best Walk Reminder Apps
8. Weight and Measures Tracker
Sometimes you need tools like this to keep your diet in control. It will monitor all changes in your body. The main feature is the detailed features of the app. There are measurements from your neck to your ankles. Also, the program is great for tracking weight changes.
After all, entering your information into the software will give you information about your ideal weight and how to achieve it. In addition, the app will approximately value the percentage of fat and muscle in your body. Also, the distinctive feature of this application is the possibility of using it not exclusively for athletes but also for people recovering from various illnesses.
The software has many charts for this purpose. And the main menu will show all your data and goals as a percentage. Moreover, the app collects data and can automatically save it to your smartphone in an excel file. And the program itself is quite customizable, you can pick up an interface theme and a metric system.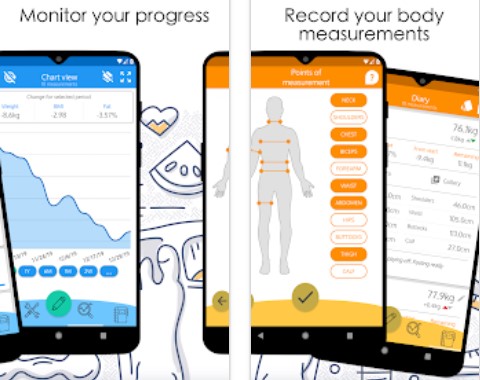 9. Weight gain: diet & exercises
This is a simple program that is highly popular among those who want to gain weight. It offers accessible functionality, and any action is possible in a few clicks. In addition, you are offered a basic training and nutrition plan for the month. Each week, you can start with a new workout and a variety of meals.
On top of that, the software will make a handy grocery list for the whole week. It also has a handy reminder system for meals, water replenishment, or weights. Unlike others, this app benefits in diet clarity and short duration of weight gain. The software offers a workout system with a primary focus on training your muscle groups and workouts using just your body weight.
All exercises are categorized by their location. The exercises get harder each day, forcing you to overcome yourself and move forward. Achieving your desired dream body shape is simple to track thanks to a graph that shows your weight changes. So it assumes to gain 10 kilograms with the aid of a well-balanced protein diet.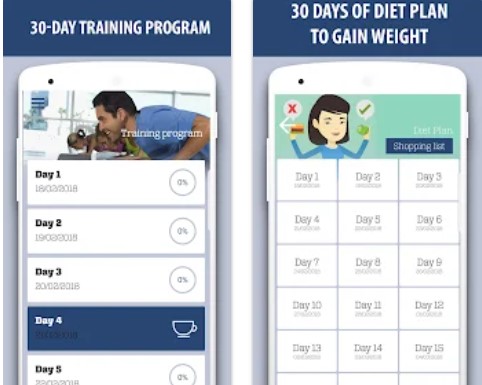 10. Gain Weight for Women at Home
Some people think gaining healthy weight is more difficult for women, but this tool disproves that myth. This is a special program for women to gain weight. It includes both well-developed eating and an exercise program. First of all, your diet is scheduled by day. Each meal has a recipe with a picture and a detailed description of the elements they contain.
In addition, the meal plan is adapted specifically for women. Therefore, the diet is balanced and easy to follow. Secondly, it is also possible to perform all the exercises for women at home without special equipment. Moreover, there is no need to connect to the Internet to do all the exercises.
Furthermore, by using the software, you will get a complete monthly workout plan that is focused on results. This will greatly increase your chances of gaining weight. Beyond all of this, the tracker has clear navigation and functional optimization.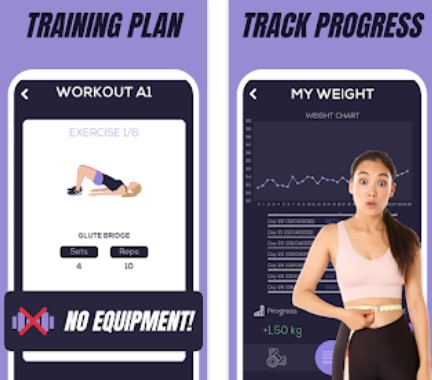 11. Diet: Weight loss Healthy food
This software will specify your diet, which will be compiled specifically for your parameters and wishes. For this purpose, you need to take a test by choosing your gender, activity level, and goal. Thus, the assistant will suggest a comfortable weight gain program. The diet will consist of breakfast, lunch, and dinner.
By tapping on a meal, the diary will give you options. For each food, it will show calories, proteins, fats, and carbohydrates. In addition, you can add calories to your meals. Also, it is handy because it automatically makes a detailed grocery list. In addition, you can track the percentage of nutrients consumed for the day.
Moreover, there are many settings available to customize your diet to be either intensive or comfortable. You will also be able to edit the app's main screen, for example, to select a calorie counter instead of a food menu. In addition, you can create your diet by scheduling meals and even calories.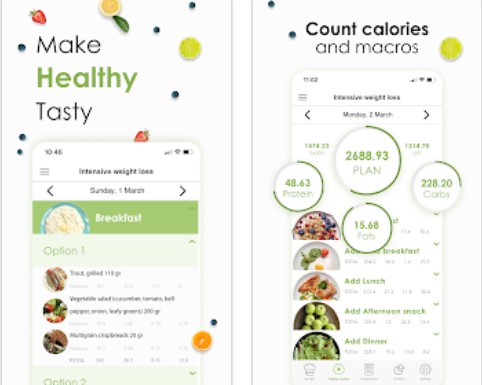 You may also like: 9 Free Workout Of The Day (WOD) Apps
12. Fitpaa – Your fitness planner
Another thing that will customize a meal plan for you based on your preferences and physical condition. The software consists of several tabs that are obvious to navigate. The interface is designed in a modern, pleasant and bright style. The meal plan section will present a detailed set of foods for each meal. You can select the meal yourself from a list of choices.
Each dish has a review with the number of calories and nutrients. In addition, the program itself will count the amount of necessary training, sleep, and calories. There is also a tracker for glasses of water you drink.
Moreover, you will see detailed instructions with photos of cardio and strength training in the workout section. All workouts are divided into days. In addition, there are exercises for home and the gym.