Auto tap is a program that imitates tapping on a smartphone screen. To avoid torturing yourself by endlessly tapping on the same place, we have gathered a list of the best applications available today. Besides, each program has its distinctive features, which we will highlight today.
In addition, we suggest making your life even more simple, for instance by starting with the phone's wallpaper. For more details, check out our article Best Apps To Change iPhone Background.
1. Auto Clicker – Automatic Tap
This program has the best rating of all the apps that are available on the iPhone. It easily makes it possible to do any routine actions on your smartphone. You can use this app to automatically tap whenever you want. Tapper mimics user actions, controls tapping, launches apps records the screen, and does whatever you want.
Moreover, it is designed in a minimalistic style and has a nice interface. The app is designed in a minimalistic style and has a nice interface. A key feature of this app is that you can set up automatic tapping on your favorite sites and apps. Also, you can set the delay as well as the number of clicks you want to perform.
In addition, the app is adapted to some social networking sites and apps. You can use the app on them as well. The application has a 3-day trial subscription that will allow you to try out the tool. If you pay just once, you can use the application forever, without restrictions.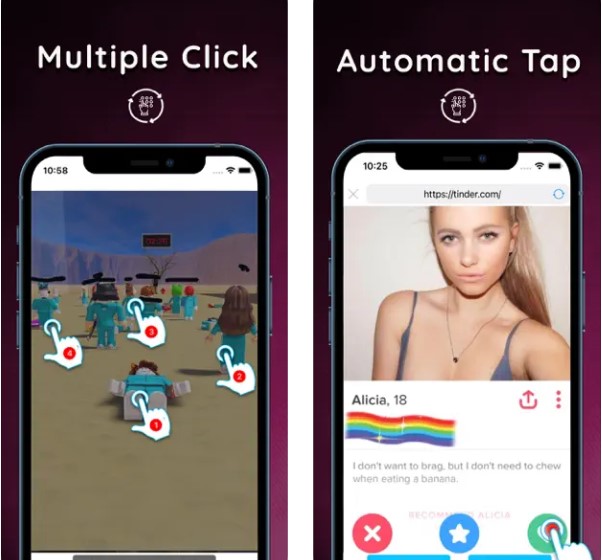 You may also like: 9 Best auto tune apps
2. Auto Clicker: Automatic Tap
This app makes it easy for you to automatically tap on almost anything on the Internet. Besides, it has simple functionality. When you log into the app, the tapper program itself greets you. So it is possible to visit any site on the Internet or an app. You can also set the delay and number of taps you need.
Thus, you can set up automatic finger taps and their movements, setting the necessary execution parameters in advance. Such a program is for gamers, students, and all those who want to free themselves from routine tasks. Also, the app has a one-week pro version.

You may also like: 5 Best SMS auto-reply apps
3. Auto Clicker – Automatic Click
This auto tapper sets up a script of actions and automates various actions on iOS. You are given a brief instructions on how to use this app when you log into the app. This app justifies its price and has a nice range of features. Also, it is styled in a dark interface.
To use the auto tapper, you need to go to the site or app where you want to use it. Then, you need to place the tap on the location where you want to use it. In addition, you can set the delay or duration and press start. The app will begin to perform your task.
There are also built-in sites that the app offers you for quick access. Besides this, you will be able to use not only automatic tap but also swipe and page refresh. There is no trial subscription in the app. It offers you one week, one month, and three months subscriptions.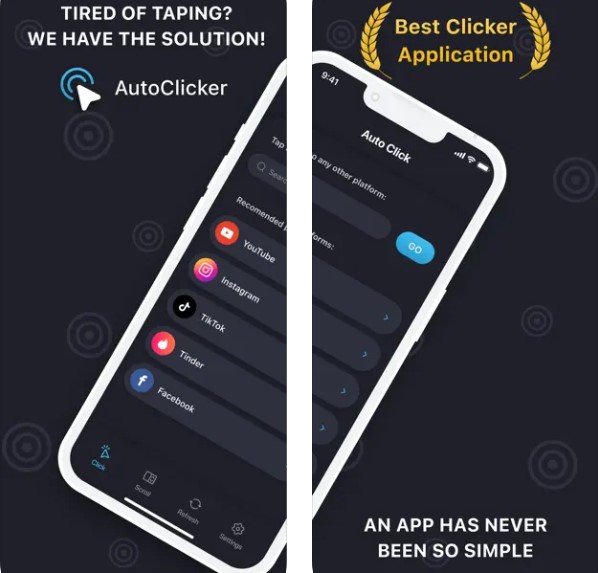 You may also like: 11 Best Planner Apps For iPad
4. Auto Clicker – Multiple Click
The program under consideration copies several actions, automatically performs actions, taps in the selected location, launches applications, and updates pages. You as a user just need to set actions and tap in the software, and then you can watch how the program performs the preset actions.
This program is suitable for web browser actions, which are built into the app. By pasting a link and clicking on it, you can find the site you want and make your routine work easy. Moreover, you can set the time of tap or scroll.