These days, smartphones contain too much private information inside of them. This way, without proper protection, anyone can steal your bank details, private chat messages, and photos. Despite the fact that built-in ways are also working well against unauthorized access, it is not always the best way to protect private apps.
That is why you can find some apps that will hide the icons of the desired programs in our article. In addition, you may also like the article Best Don't Touch My Phone, which covers even more ways to protect your devices.
1. App Hider- Hide Apps Hide Photos Multiple Accounts
App Hider is a compact application with an interface that resembles the desktop of an ordinary smartphone. However, instead of a menu, you will see a list of all the applications installed on your smartphone. So, first of all, you can always hide the applications that you regularly use. Secondly, you can hide not only applications but also photos and videos.
Thus, App Hider can turn into small storage of your files. Once you set up the application, the App Hider icon will take the form of a regular calculator. Moreover, the application will look like a calculator even inside. In other words, it is not a fake, and the application at first glance can even perform mathematical calculations.
But in order to go to the secret desktop, you need to enter a six-digit numeric password, which you can make up after installing the application. In addition, App Hider is optimized so that it can turn any popular social network into something hidden.
By the way, this app can also be used for using two accounts at the same time. So, not only will you be able to hide an icon such as WhatsApp, but you can also take advantage of the app's advanced features. In addition, you can hide the App Hider app itself. That way no one will know you are using this type of app.

You may also like: 9 Free Apps To Limit Social Media on Android & iOS
2. Calculator Lock Calculator Hide App photos Locker
This is an app that is similar in function and coverage to the app above. It creates a storage space on your smartphone in the form of an additional desktop. The application itself is masked as an ordinary calculator, which performs its functions perfectly. The unique feature of it is that after installation, it can be renamed, and this app will not stand out from the rest.
You have to enter a numeric password in the calculator and press the equals key to access the applications. At the same time, all your hidden applications will not stop working, while notifications or messages will appear as usual. Of course, if you have allowed this action in the settings.
So, this app will not only keep you safe by hiding application icons but also create hidden notes, using Calculator Lock as a video and photo storage, saving music and files. This application will be useful when you need not only to hide the icon on the main screen but also to set a strong password.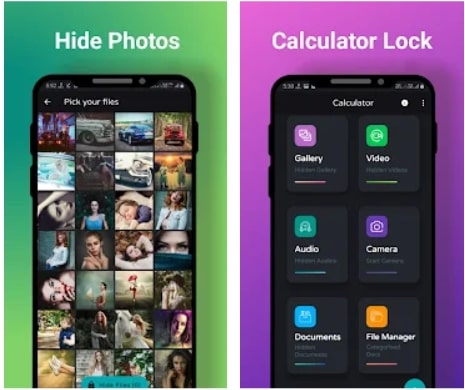 3. Apex Launcher – Customize,Secure,and Efficient
The following program is more functional, and it is named Apex Launcher. Not only will you be able to hide the application, but you will also be able to completely change the menu and the desktop with the app. In addition, you can change the font size, customize the theme to your needs, install additional widgets, and much more here.
To manage the visibility of the program's icons, you need to do the following. First, you need to open the application settings, where you will find the application menu settings. Thus, you will be able to select any desired applications click on the save button. In contrast to other applications, to run hidden programs you will need to restore their visibility.
This means you have to repeat all your steps again, instead of just entering your password. This may not seem very convenient, but it will ensure your privacy. However, if you stop Apex Launcher work, all of the hidden applications will be visible again. Besides that, the Apex Launcher itself will be hidden by default.
This is not just an app, but a whole tool to change the appearance of your smartphone. In addition, users note that the application works perfectly without buying an extended version. Moreover, Apex Launcher has no annoying ads at all.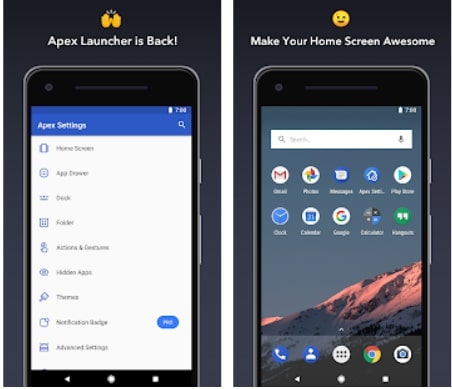 4. App Lock – Lock Apps, Fingerprint & Password Lock
One way of hiding an application can be not only changing the icons but also using additional security. So, we offer you to get acquainted with the application App Lock, which will keep all your applications, photos, and files safe. Besides, it will not take much time to set up the App Lock, while any app can be protected.
Furthermore, the selection of apps to lock in App Lock is incredibly convenient. You can choose to lock all your apps or just a few of the important ones. In addition, you can protect your messages and contacts. You can use an extra PIN, a picture key, or your fingerprint to enter into apps.
What is more, you never have to be worried that you might forget your password. After all, App Lock allows you to answer security questions that will restore access. Furthermore, you will know exactly who is trying to get into your apps. After all, when someone enters your password incorrectly, the app will take a photo.
Also, there is a handy feature to make it easier for you to log in to blocked apps. In fact, you can set a time period to relock your open apps in App Lock.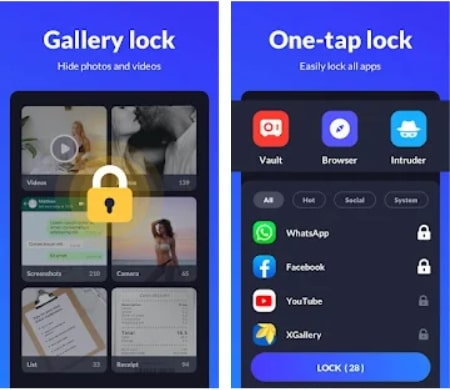 5. Calculator# Hide Photos Videos
Calculator# Hide Photos Videos is an incredibly simple application that will protect your photos and videos. The interesting thing here is that the icon of the application looks just like a real calculator on your iPhone. Moreover, it works the same way as the real one. To use this app, you first need to choose and confirm a four-digit password.
In addition, you can send the password directly to your e-mail right from the Calculator# application. If someone picks up your phone and tries to enter the fake calculator, he or she will find that the application performs mathematical operations. However, if you enter the correct password, you will immediately log into the app.
Then you will find that the Calculator# app has turned into an additional storage space for photos. Moreover, you will be able to create different albums to organize photos and videos. So, you will be able to add any photos from Camera Roll. Even if you delete photos from the Photos app, they are still saved in Calculator#.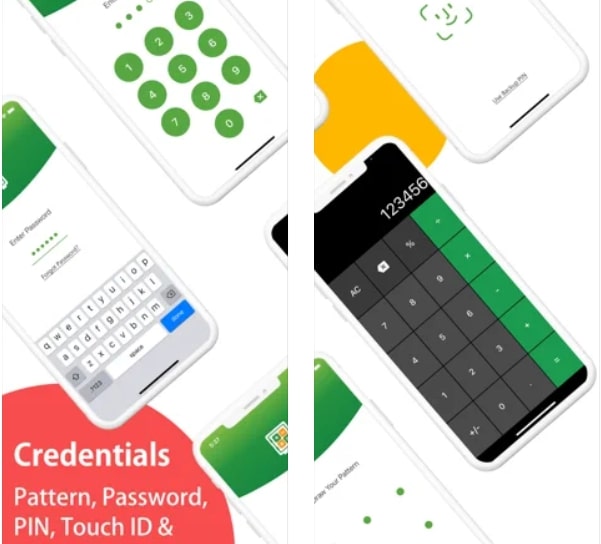 6. Locker: Photo Vault
There are not many apps that hide your app icons. However, the Locker: Photo Vault app has useful features. At the same time, it is incredibly simple and easy to use. So, the app is a way to secure your apps and files. At the same time, it supports alpha-digital locking, locking with a graphic key and blocking your contacts, as well as Touch ID and Face ID for strong protection.
When you first enter the app, you will be asked to come up with and confirm your password. Then you can add not only apps, but also photos, videos, files, notes, and folders to Locker. Afterward, Locker: Photo Vault will give you a short instruction on how to use the application. You will be able to find any messenger, game, and other programs by using the application search.
That photo storage app comes with a built-in browser that allows you to download images from the Internet. And of course, you can also add and manage photos from your iPhone library. Moreover, there is an option to make folders invisible to keep them safe.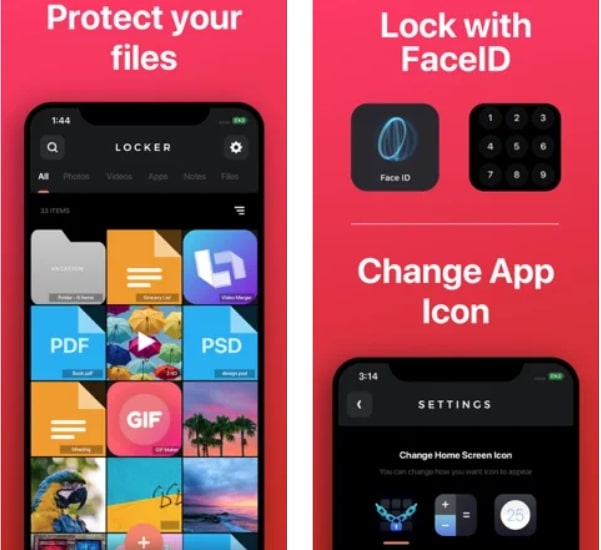 You may also like: 9 Best hidden voice recorder apps for Android & iOS
7. Secret Photo Album ++
This is a secure way to protect your photos with a special password. Moreover, the app gives you the possibility to create and organize individual albums in the app. That way you can manage and share your personal photos via messages and email.
In addition, Secret Photo Album ++ has a private web browser that allows you to upload images straight to other apps. You will also be able to export videos and photos from the Photo app. In addition, after you enter a password consisting of four numbers, you will get the app with all the hidden files.
This application is a kind of home screen that displays not only your photos, contacts, browser but also the time. Moreover, the icon of this application looks like the Calculator application. It is also a good place to store your passwords for various social networks.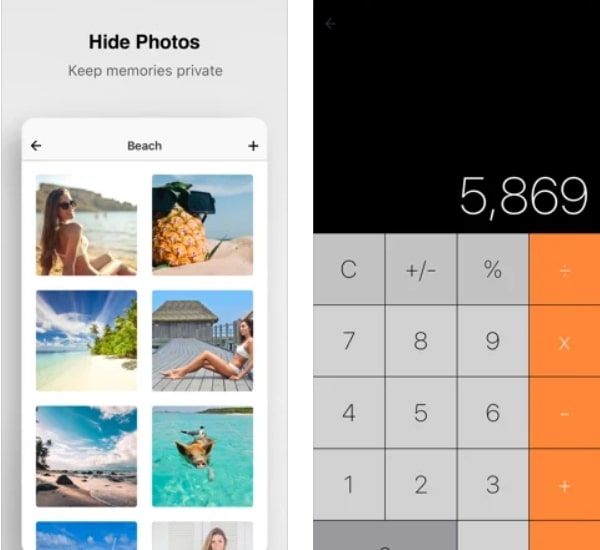 8. CalculatorX – Calculator Lock
The app is very much similar to other analogous iPhone apps. It also hides under the mask of a calculator and stores all your secret files. However, unlike the others, it has its own personal built-in secure browser. You can also use it to browse the Internet anonymously and securely store your browsing history, which only you can access.
All your downloaded files from the secure browser will be saved only inside the CalculatorX – Calculator Lock app itself. Furthermore, this application is also distinguished by its pleasant interface. The CalculatorX – Calculator Lock is a secret locker in your phone that allows you to keep an unlimited number of files and applications that you want to hide from prying eyes.
Such files can include any personal data: photos and videos, files with passwords, financial applications, or bank transaction receipts. Moreover, the interface of CalculatorX – Calculator Lock looks pretty much the same as an ordinary calculator.
So any untrained user can hardly do anything more than perform standard math operations. All main functions of the program are available only after you enter the password that you set in the calculator field.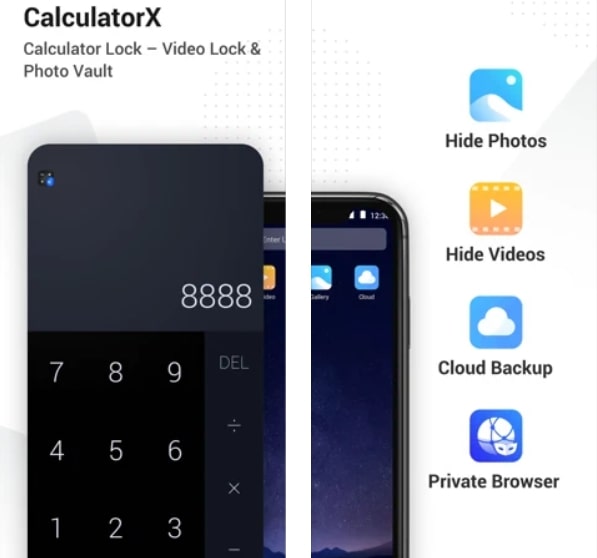 You may also like: 7 Best Navigation Gesture Apps for Android
9. App Lock
The last app on our list aims to provide the best protection. Moreover, App Lock secures your data and has interesting features. First of all, the app has different levels of protection, such as strong and weak ones. It means, you will be able to put the applications in different groups, so some apps will be slightly harder to open than others.
Secondly, App Lock is also a place to store information on your social networking profiles. Also, the app supports unlocking by fingerprint as well as with a PIN code and a graphic key. There is also another useful feature here. If someone tries to enter a locked app, App Lock will take a picture of the supposed cracker.
Also, the app will not take up much space on your device. In addition, it has a feature that will save your phone's battery. Meanwhile, the app's interface supports Dark Mode.